First two "imported" cases of A/H1N1 influenza in Uruguay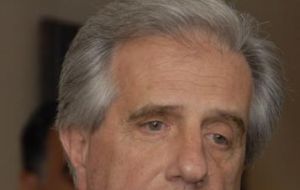 Uruguay's Public Health Minister, María Julia Muñoz, confirmed the first two cases of influenza A (H1N1) in her country during a press conference Wednesday. One of the two Uruguayans infected is 24-years-old and the other is a 15-year-old minor, who had both travelled to Argentina and returned to their country without apparent symptoms.
The 24-year-old participated in an equestrian tournament in Argentina in mid-May and returned "without symptoms, but worried enough to get himself examined" after "the Argentine Equestrian Federation notified the Uruguayan Equestrian Federation, which in turn notified all those who'd travelled," that one of the Peruvian participants had contracted the virus.
The 15-year-old minor, who had also travelled to Buenos Aires, currently has "mild symptoms," as Muñoz indicated, and she added that "at this time we don't have any other suspicious case".
The teenager "has stayed in her residence, which means all those in daily contact with her must undergo treatment, but we don't have to take any measures in the educational establishments assisted by her, because she hasn't been there after discovering the symptoms," Muñoz added.
She also said that both cases "have had a benign evaluation," and she announced that in a few hours "the workshops that were already programmed in the country in order to inform all medical teams" will begin.
President Tabare Vazquez, an oncologist, said that the situation shouldn't be dramatized; nevertheless measures recommended by the Health ministry must be abided.
"The symptoms so far, internationally have shown that the H1N1 flu strain in benign, less severe than seasonal flu. This does not mean we shouldn't take precautions and report to a doctor when we believe we have the symptoms, but let us not be dramatic", said Vazquez.
The latest report from the World Health Organization at 06:00 GMT, 27 May 2009, shows that 48 countries have officially reported 13,398 cases of influenza A(H1N1) infection, including 95 deaths.
In South America, Argentina has 19 cases confirmed; Brazil, 9, Chile, 86 (including 2 in Punta Arenas) and 27 in Peru. No deaths have been reported.