Brazilian beef industry blamed for Amazon deforestation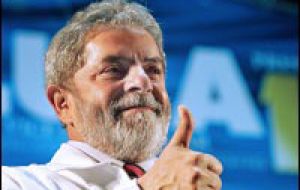 Boots and training shoes are not the first things that spring to mind when you think about the causes of rainforest destruction and climate change, but just because the connection isn't obvious doesn't mean it isn't realm, says Greenpeace in a new report, "Slaughtering the Amazon".
illegal deforestation and in some cases slavery, via giant processing facilities to the supply chains of some of the best known global brands. Shoe companies like Adidas, Reebok, Nike, Timberland and even Clarks are sourcing a significant proportion of their leather from the Amazon - and its big business.
But it's not only shoes. Products as diverse as handbags and ready meals, and companies as big as Tesco, BMW, IKEA and Kraft also rely on Amazon leather. Practically all Western world consumers have some by-product of Amazon destruction in our homes somewhere, whether we like it or not. Effectively, these brands are driving this destruction by buying beef and leather products from unscrupulous suppliers in Brazil points out the Greenpeace report.
The report says the cattle industry is the single biggest cause of deforestation in the world as trees are cleared to make way for ranches. And the Brazilian government is also fuelling the process by offering billions of dollars in loans to support the expansion of the cattle industry. President Lula de Silva has pledged to double his country's share of the global beef market by 2018. The report contrasts these investments with Lula da Silva's recent promise to cut deforestation by 72% by the same date and to set up an international fund for protecting the Amazon.
"This is a disaster for the fight against climate change and it's got to stop. We're asking President Lula da Silva to announce an immediate end to the felling of Amazon trees to create large cattle ranches and commit to zero deforestation in the rainforest by 2015", says Greenpeace.
The Amazon has lost about a fifth of its forest in the past three decades and the rate of deforestation rose 69% in the 12 months to August 2008 as 8,147 sq km were cut down. It is expected to fall this year, partly due to the global economic crisis, but ecologists say government policies and market forces still drive deforestation.
The report presented satellite analysis it said showed that meat exported by Brazil's big meatpackers often comes from ranches with recent illegal deforestation. Major Brazilian meatpackers such as JBS, Marfrig and Bertin, ship the beef or hides thousands of kilometres south for further processing before export.
However Roberto Gianetti da Fonseca, the head of the Brazilian meat exporters association ABIEC, said hardly any beef was exported from the Amazon region because it was too far from ports.
Environmental groups are aiming to replicate the success of a 2006 campaign that persuaded Brazil's soy industry to impose a two-year moratorium, now extended to three, on soy from illegally deforested areas.
Brazil is the world's largest beef exporter and has the largest commercial cattle herd of 200 million, a third of which is in the Amazon region where loose laws and cheap land have helped its rapid expansion in recent years.
Beef industry officials acknowledge illegal deforestation by small cattle farms but say the problem will soon be resolved through microchips implanted in millions of cows that can then be traced by satellite.
"Greenpeace should be calm," said Fonseca, the exporters' group head. "We're not going to destroy the Amazon but we also won't create a false system of control to deceive people".