Ford recovering US market share with sales up 20% from April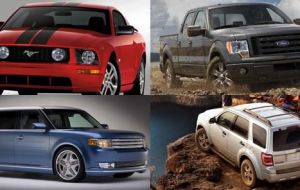 Ford, the only one of the "Big Three" US carmakers not to have gone bankrupt, has reported its share of the US market in May was its highest since 2006.
Its sales of 155,954 vehicles in May were down 24% from the same month last year, but up 20% from April. Ford has decided to increase production to take advantage of the problems facing General Motors and Chrysler.
On the day after filing for bankruptcy, GM announced May sales were down 30% from a year ago but up 11% from April. Chrysler had filed for bankruptcy on 30 April.
GM sold 191,875 cars and light trucks during the month, with the worst performance coming from the brands it plans to get rid of: Pontiac, Hummer, Saturn and Saab.
Earlier in the day it said it had reached a tentative agreement to sell Hummer, but did not identify the buyer or the value of the agreement.
Ford has given details of its planned production growth. It will make an extra 10,000 vehicle in the April to June quarter and 42,000 more than were planned for the following quarter.
"At Ford, the future is now," said Ford's Ken Czubay.
"New products account for 50% of our sales, and demand for these products is driving our market share gains," he added.