US Congress offers support for Peruvian Amazonia land disputes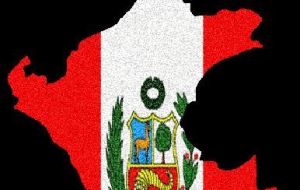 The United States Government and Congress will support Peru in finding a solution through dialogue, with indigenous communities regarding the improvement of the Forestry and Wildlife Law, which is essential for the for the implementation of the bilateral Free Trade Agreement (FTA), the Ministry of Foreign Trade and Tourism (Mincetur) reported Friday.
Clashes between security forces trying to dislodge indigenous groups blocking routes and waterways in the northern province of Amazonia left a toll of at least fifty dead and dozens disappeared. Indigenous groups are protesting the granting of land to foreign corporations for logging and mineral resources exploration.
"The Office of the United States Trade Representative (USTR) and US Congress members said they understand Peru's position and they promised to support us to find solutions through dialogue with indigenous communities" Peruvian Minister of Foreign Trade and Tourism Mercedes Araoz reported.
She said that a multi-sector delegation of technicians from Peruvian government, headed by Mincetur, is working in Washington for the FTA implementation; they met with Democrat congressmen in order to improve the forestry law included in the FTA.
"US congress members understood that Peruvian government has to be cautious in solving this problem because at the end we have the same goal that is forest protection, conservation and ensure a sustainable development" Ms Araoz is quoted by the Peruvian government news agency Andina.
The Forestry and Wildlife Law also contemplates the elimination of forced labour in indigenous communities, the indiscriminate use of forestry resources and an end to all forms of abuse against indigenous peoples which has been going on for years.
Araoz pointed out that through direct dialogue between the government and indigenous communities, "this law may be improved".
However Peru's ombudsman who has been asked to act as a "facilitator" for discussions between the administration of President Alan García and representatives from indigenous groups said dialogue must proceed "with no vetoes" from either side, if "we don't want talks to fall through or erode before public opinion"
Ombudsman Beatriz Merino meeting with foreign reporters in Lima said that the government does not accept the Peruvian Jungle Development Inter-ethnic Association, Aidesp, as a counterpart in the talks. Aidesp has acted as the visible face of the two-month long conflict which last weekend exploded into the bloody confrontation.
Ms Merino added that for dialogue to prosper, both sides will have to depose extreme measures: the indigenous groups will have to end the strike and lift blockades and the government must lift the curfew in Amazonia. This has to be officially acknowledged by Congress.
Furthermore, Ms Merino said that the indigenous groups must agree on their representatives, ten seats at the discussions table, and these groups and tribes have an estimated 1.400 "apus" or chiefs.
The administration of President Garcia rejects Aidesep which it accuses of promoting radical ideologies, "close to foreign interests", and is not pleased its main leader Alberto Pizango with an arrest warrant for "sedition", who is currently in exile in Nicaragua.
On the other hand indigenous leaders have implied that Primer Minister and cabinet chief Yehude Simon is not the man to talk with since he has "his hands covered in blood" from "our brothers killed by security forces".
Simon invited ombudsman Merino to act as a "facilitator" and called on Peru's Episcopal Conference to help with the negotiations. The Catholic Church has sided with the indigenous groups claims in the conflict.
The Peruvian ombudsman office also has responsibility with human rights affairs and when legislation interferes with the indigenous population interests and/or wishes.
"There's always hope, and when not you must help create those conditions", said Ms Merino ahead of the talks which she insisted must be "inclusive and transparent".