A/H1N1 virus influenza deaths climb to six in Argentina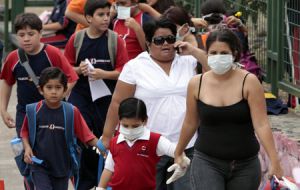 Argentina health authorities announced Thursday two more people have died of A/H1N1 flu, raising the country's total to six. Buenos Aires province Health Minister Claudio Zin says a 15-year-old died in a clinic in La Matanza, while health officials in the capital are confirming the death of a girl. They did not give her age.
As of Thursday, Argentina had 918 total confirmed cases of A/H1N1 flu, the second highest total in South America after Chile, which has 3,125 cases. But Chile only has four confirmed swine flu deaths.
World wide the virus has contaminated 40.828 people in 89 different countries with 171 reported deaths, according to the World health Organization, WHO.
Meanwhile in Punta Arenas, extreme south of Chile, local sanitary authorities said that the number of cases of the feared A/H1N1 influenza could reach 2.000 in the coming 45 days when the disease is expected to peak.
"We have all the necessary medicines for treatment of those patients who have the symptoms and comply with the virus criteria. Anyhow we call on public opinion to calm down that we are prepared and have the adequate measures ready", said Joge Flies head of the Regional Emergency Committee.
So far 176 cases of A/flu have been registered in Magallanes region but only three of them needed hospital attentions, "the rest have been treated as a seasonal flu and are resting or recovering at home", added Flies.
The situation could see local hospitals and clinics overflow with patients but not necessarily because of the flu: at this time of the year many residents from Magallanes suffer from the sinus virus, which affects the respiratory system and can have similar symptoms to season flu.
"This year the sinus virus seems to be more active or virulent" admits Flies who said most patients suffering it are children.