Peruvian Congress overturns land decrees that led to deadly protests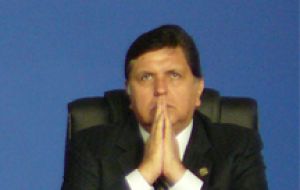 Peru's Congress overturned on Thursday two controversial decrees that had sparked deadly protests by Amazon Indians opposed to development on their lands, a vote hailed as a victory for indigenous groups At least fifty people, including 24 policemen were killed in last week's clashes some of them speared
After five hours of debate, lawmakers voted 82-14 to strike down the decrees, which indigenous groups said would speed the sale of their lands for logging, oil and gas projects. President Alan Garcia had argued the decrees, designed to facilitate investment in the Amazon, were needed to help Peru develop.
The laws were originally passed under powers Congress had granted President Alan Garcia to implement a free trade agreement with the US. Indigenous groups said they were not consulted and some of Peru's South American neighbours voiced opposition.
The long-running protests by indigenous groups in the northern province of Amazonia erupted in bloodshed on June 5 when police tried to break up a road blockade manned by protesters striking for over two months. The government says 24 police and 10 civilians were killed, with one police officer missing. Indian leaders say dozens more civilians died.
Following the violent clashes, Peru's government said it would ask Congress to revoke the decrees, meaning Thursday's vote result had been expected. On Wednesday, President Garcia apologized to indigenous communities for not consulting prior to issuing the decrees.
The violence has had major political ramifications in Peru, with Cabinet chief Yehude Simon saying he will resign after settling the dispute and protest leader Alberto Pizango being granted political asylum in Nicaragua.
The dispute led to a diplomatic row between Peru and Venezuela and Bolivia.
Peru recalled its ambassador to Peru for consultation on Tuesday after Bolivian President Evo Morales described the deaths of the indigenous protesters as a "genocide" caused by free trade.
Peru's Foreign Minister Jose Antonia Garcia Belaunde called Mr Morales an "enemy of Peru"