Mrs. Kirchner downplays defeat and asks for support from Congress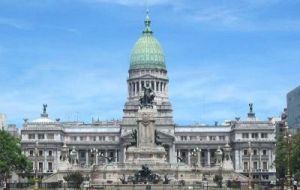 Argentine president Cristina Kirchner downplayed the defeat suffered by government candidates in Sunday's mid term elections and insisted the ruling coalition had won with 31.03% of the overall national vote, denied any cabinet changes and criticized political analysts for their interpretation of election results.
During a Monday afternoon press conference limited in time and questions, Mrs. Kirchner was positive about the new Congress, following on Sunday's results but insisted that "the new composition will have much to do with the governance of the country".
She said that the loss of the congressional majority, although the government retains the leading minority "is going to demand agreements in order to ensure governance; we must negotiate just like in any parliament" and "I trust that everyone will work to achieve governance".
"In the Senate we had 37 seats, and we are down to 35, and the number of possible allies is now 4 instead of 6. In the Lower House we had 115 seats and 22 allies, now we have 107 and 27 possible allies", said Mrs. Kirchner. (For a majority she needs 37 Senators and 129 Deputies).
"This will demand from all of us, government and opposition, consensus to ensure governance. Building consensus depends on others, and this means discussing and reaching agreements in most cases" she emphasized adding "I trust we can achieve it".
However consensus does not mean giving up ideas, "you can never have 100% of what you want from an agreement, but you can try and achieve the better half".
When asked specifically about the vote losses, Mrs. Kirchner suggested a comparison with what happened in Buenos Aires city, "percentages indicate that the city now has three main political forces. The government of Mayor Macri in 2007 garnered 60% of the vote but this time barely managed 31%, with a new political force as runner up".
However the Kirchner couple in 2007 obtained 45% of the national vote and on Sunday 31%. "It's correct I won with 46% of the vote. But we have been in office for six years and always during the second term the ruling party suffers an electoral defeat. It is impossible to govern six years without the people becoming tired."
Regarding the loss in the Kirchner's turf, "in Santa Cruz our defeat had to do with our absence from the territory. In Calafate, we won with 60% of the votes and that is where I belong". However it is a loss that must be analyzed by "the governor and us".
Mrs. Kirchner also recalled that the international crisis continues and the markets remain altered. But "the Argentine currency was the less devalued in the region and the exchange rate has never been so competitive; who knows what would have happened if we forced a massive devaluation as we were repeatedly proposed?".
Asked specifically if Argentine is planning to return to the IMF and the more flexible credit lines, Mrs. Kirchner said that the so called "flexibility and easier access to credits" still has to fully implemented by the IMF, and has only been tried in very few specific cases.
"During the next G20 meeting in Pittsburgh in September we'll have a better idea", and then possibly the issue could be considered.
Finally she denied any cabinet changes as a consequence of Sunday's results. "The only change has been in Public Health, Graciela Ocaña, she has left and will be replaced Wednesday by a new cabinet member, Juan Luis Manzur".