China downplays interest in stake of Repsol/YPF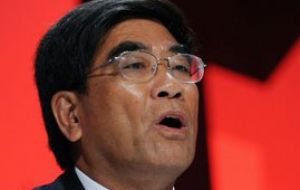 Chinese oil producer CNOOC is seeking cooperation rather than acquisitions, the corporation's president Fu Chengyu was quoted on Sunday, amid talk CNOOC had set its sights on a unit of Spanish oil major Repsol/YPF.
Last week the Spanish press reported that that CNOOC and CNPC, China's biggest state-owned oil firm were fighting for approval to bid for YPF, the Argentine unit of Repsol-YPF, in a deal that could be worth around 17 billion US dollars.
"CNOOC strategy is still focused on looking for cooperation rather than mergers and acquisitions," Fu was quoted as saying by the Oriental Morning Post. "Our cautious stance will not change."
Repsol/YPF said on Thursday it had received several offers for a stake in its Argentine YPF unit, following a report by the South China Morning Post newspaper that CNPC was planning to revive an earlier bid and CNOOC was looking for a 25% stake.
Last April Fu said CNOOC, an offshore oil specialist, had no plans to buy foreign firms during the financial crisis, looking instead for joint investments with foreign partners.
CNOOC has traditionally been the most active of the big three listed Chinese oil firms in foreign deal-making, while the other two, Sinopec Corp and PetroChina, have often deferred to their state-run parents Sinopec Group and CNPC.
CNOOC was involved the biggest setback in Chinese overseas M&A, when its 18.5 billion US dollars bid for Unocal ran into US political obstacles in 2005. No Chinese company has attempted a major US deal since then.
The Madrid newspaper ABC which broke the news last week said talks were continuing through the bank Goldman Sachs, which has been in touch with a number of Asian groups.
Repsol bought YPF in 1999 for 15 billion US dollars in what was the biggest sale of the privatisation programme of then Argentine president Carlos Menem.
Last year, it sold a 14.9% stake to Argentina's Grupo Petersen in a deal which included a buy option for an additional 10%.