Kirchners change some cabinet names but ratify course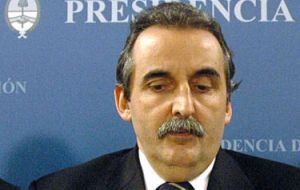 Argentine President Cristina Fernandez de Kirchner named late Tuesday new cabinet chief and Economy minister in a cabinet shake-up supposedly aimed at helping her rebound from a crushing defeat in mid-term elections. However the opposition called it a "mild lifting" and demanded an immediate round of dialogue.
Mrs. Kirchner named Justice Minister Anibal Fernandez and a long time confident of former president Nestor Kirchner who has been with the couple since 2003, as cabinet chief and Amado Boudou, head of the country's social security agency, as the new Economy minister replacing Carlos Fernandez.
According to Buenos Aires press reports Carlos Fernandez resignation triggered the changes. He said he was tired of being constantly "sandpapered" and having a diminishing role. It is well known in Argentina that former president Kirchner is the man of the final decisions regarding finances.
The shake up came as opposition leaders stepped up calls for changes in the cabinet and a round of political dialogue since Cristina Kirchner lost the majorities in Congress. The opposition called the changes "cosmetic" and at most a game of "musical chairs".
In effect Mrs. Kirchner retained two of the most controversial cabinet members, Domestic Commerce Secretary Guillermo Moreno, who is accused of manipulating economic data and enforcing government interventionist policies, and Federal Planning Minister Julio De Vido who manages energy and public works, a huge electoral chest fed with primary budget surpluses, an extraordinary tool to convert governors and mayors.
Unable to control insecurity and crime, unleashed inflation and the ongoing battle with farmers over taxes, have eroded the Kirchner administration with her popularity ratings plummeting to the low twenties.
This was confirmed on June 28th when a slate of candidates for the Lower House led by former President Nestor Kirchner, finished second in the election of Buenos Aires province, the country's biggest and most important electoral circumscription. Pro-government candidates also lost in the main provinces of Santa Fe, Mendoza and Cordoba and in Buenos Aires city.
"This simple means that the Kirchner couple has decided to ratify their government's course, how they had anticipated a week ago. In other words there have been no changes", said Rosendo Fraga a recognized Argentine political analyst.
Fraga said that if the president had offered the Economy ministry to a member of the opposition and named cabinet chief a dissident Peronist, the political impact "would have been very different".
Following stunning electoral defeats "there's a cabinet reshuffle or a renovation, but this is not the case". At the most it's a "reorganization" which only transmits weakness and confirms a debilitated administration, concludes Fraga.