Uruguayan farmland selling prices down 20 to 30%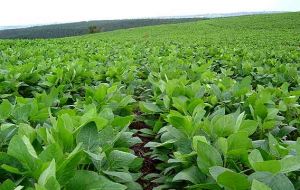 The cost of farmland in Uruguay has dropped between 20% and 30% in the first half of 2009 and the number of operations has fallen drastically, 70% according to local camp brokers.
The limited sales are concentrated in prime farmland for grain agriculture which has experienced a boom in the last few years even surpassing beef as the country's main export item.
However brokers also point out that most of these operations can be traced to money looking for safe havens, given the world financial crisis, and not necessarily increasing production. Therefore renting farmland has become a popular instrument for those real farmers who are interested in exploiting the land, be it with grains, oilseeds or cattle.
Prime farmland for agriculture, according to the last operations, ranges between 5.000 and 7.000 US dollars per hectare, taking into account other factors such as location, facilities, productivity, transport access, etc.
Renting is a different ball game because payments are usually a percentage of whatever is produced. That is anywhere from 400 to 900 kilos of soybeans per hectare depending of the production capacity of the soil.
In other important sectors of rural production in Uruguay, rice, forestry and cattle, conditions tend to be similar. In the rice sector sales of land are virtually non existent since 50% of the area is in the hands of Brazilian families who have moved to Uruguay over the last decades and are reluctant to sell with sons and daughters following on the business.
Besides the international sustained bull market for rice also plays a significant role.
"The few sales recorded in the first half of the year have involved foreigners interested in protecting their money", said Alejandro Zambrano a farmland broker and cattle auctioneer.
"There were rumours of a massive influx of Argentines along their border, but this never materialized", added Zambrano who admitted that renting land has sustained its impetus but at a lesser level than in 2008.
Zambrano said that prime farmland is sold taking as reference 5.000 US dollars a hectare; land for breeding cattle, between 2.500 and 3.000 US dollars and basalt grazing fields, 1.000 US dollars.
"Farmland sales have dropped considerable and now average 4 or 5 per month. This however does not mean that there's not an interest; on the contrary the demand is there but there's a 15 to 20% gap between selling and buying prices", said Eduardo Caldeyro from a rural estate broker.
"Nevertheless we remain optimistic about the second half of the year", he added.
An additional hurdle to overcome is recent legislation approved by Uruguay's parliament stating that the 20 kilometres strip of land along Uruguay's borders must be in the hands of Uruguayan born nationals or residents who vote.
The bill must still be regulated since it's not clear what sanctions are to be imposed to those not complying with the requirements, and what it the legal situation of companies, either locally or foreign owned. How to the requirements apply.