New leaner GM is born: four key brands and 61% owned by US government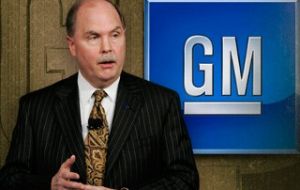 General Motors (GM) says it has emerged from bankruptcy protection after creating a "new GM" made up of the carmaker's best assets. GM chief executive Fritz Henderson said it was the beginning of a "new era".
The leaner GM will own four key brands including Cadillac and will be 61% owned by the US government. Mr Henderson said negotiations were continuing "around the clock" to conclude a deal to sell GM Europe, which includes Opel and Vauxhall.
Mr Henderson said that GM would take the "intensity, decisiveness and speed" of the bankruptcy process and apply it to the new company.
"We will be profitable, we will repay our loans as soon as possible and our cars and trucks will be among the best in the world," he said.
A smaller GM is being created with a reduced workforce, smaller dealer network and less debt.
Industry analysts interpreted the short timeframe of the bankruptcy as a good sign.
"It is the smaller, leaner, tougher, better cost-focused GM," said George Magliano, an automotive analyst with consulting firm IHS Global Insight.
"But they still have to deal with the problems that they faced longer-term."
Analysts argue that GM will need to change what it offers consumers and produce more cutting-edge vehicles.
"I'm still cautiously optimistic - they still need to put a product out there that everyone is excited about purchasing," said Pete Hastings, analyst at Morgan Keegan.
"The challenge in the future is how to approach a marketplace that has been burned by GM," he added.
The firm lost its title as the world's largest vehicle-maker in January. Toyota sold 8.97 million vehicles in 2008, while GM's global sales had dropped to 8.35 million vehicles.
The new GM will operate with 27,000 fewer US employees and operate 13 fewer US car plants compared with last year.
It will operate the strongest parts of the old company, with only its Chevrolet, Cadillac, Buick and GMC brands remaining. Others such as Hummer and Saab are being sold off.
The company's logo will remain the same; blue with white GM letters underlined.
Edward Whitacre, GM's chairman, said the firm's new 13-member board should be in place in about three weeks.
GM said it planned to repay its government loans before the current 2015 deadline.
The firm is getting $60bn (£37.3bn) in financing from the US Treasury, which gives the US government a 61% share in the new GM, while the United Auto Workers union will have 17.5%.
Canada's government will have a 12% share and GM bondholders will own about 10% in the new company.
GM said it hoped to float the company on the stock exchange again "as soon as practical".
The US government has said it does not want to be involved in the day-to-day running of the carmaker.
The company also said it was exploring a partnership with online auction site eBay to make it easier for customers to buy its cars.
GM filed for bankruptcy protection on 1 June, saying it would be forced to liquidate if the plan was not approved.
The plan was strongly supported by President Barack Obama and GM's 40-day bankruptcy ended two days earlier than that of its cross-town rival Chrysler.
However, it is unlikely to be smooth sailing for the two carmakers.
US car sales have been hit hard as the financial crisis has made it harder to get credit and made consumers reluctant to make big purchases.
During the past six months, car sales in the US have fallen by more than 30%, while in Japan they have declined 20%