Jumbo Humboldt squid "invade" shallow waters off south California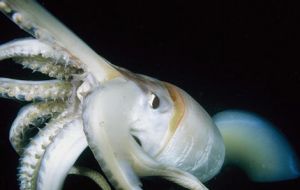 Thousands of jumbo Humboldt flying squid — aggressive 5-foot-long with razor-sharp beaks and toothy tentacles — have invaded the shallow waters off San Diego in southern California, scaring scuba divers and washing up dead on tourist-packed beaches.
The carnivorous cephalopods which can grow up to 100 pounds came up from the depths last week and swarms of them roughed up unsuspecting divers. Some divers report tentacles enveloping their masks and yanking at their cameras and gear.
The Humboldt squid are native to the deep waters off Mexico, where they have been known to attack humans and are nicknamed "red devils" for their rust-red colouring and mean streak. Those who dive with them sometimes get in a metal cage or wear chain mail to avoid being lashed by tentacles.
Normally the squid are too deep to bother swimmers and surfers, but many long time divers prefer to stay out of the surf until the sea creatures clear out.
Scientists aren't sure why the squid, which generally live in deep, tropical waters off Mexico and Central America, are swarming off the Southern California coast — but they are concerned.
In recent years, small numbers have been spotted from California to Sitka, Alaska — an alarming trend that scientists believe could be caused by anything from global warming to a shortage of food or a decline in the squid's natural predators.
In 2005, a similar invasion off San Diego delighted fishermen and, in 2002, thousands of jumbo flying squid washed up on the beaches. That year, workers removed 12 tons of dead and dying squid.
Research suggests the squid may have established a year-round population off California at depths of 300 to 650 feet, said Nigella Hillgarth, executive director of the Birch Aquarium at Scripps Institution of Oceanography. Divers this summer have been encountering them at about 60 to 80 feet down, they said.
Swarms off the coast — and the subsequent die-offs — may occur when their prey moves to shallow waters and the squid follow, and then get trapped and confused in the surf, said Hillgarth, who saw a dying squid on the beach last weekend.