Argentina implements changes in the Statistics agency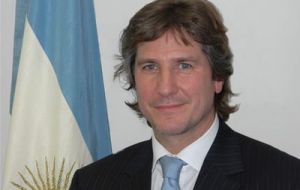 Argentina's Economy ministry will have increased control over the national statistics and census agency, Indec, announced on Tuesday the government in a bid to restore credibility to the country's consumer price data.
However Economy Minister Amado Boudou told reporters he is not planning to replace the current price index, which the government is accused of manipulating for political gain to save money on debt payments. About 40% of Argentine sovereign bonds are inflation-indexed.
"We do not see it as a reform. We see it as a strengthening of an organism surrounded in controversy, which must be made to stop" Boudou told reporters at a late-night news conference.
The plan allows Indec to report directly to the Economy ministry and orders the creation of an academic council, made up of representatives from at least three public universities, which will be responsible for reviewing data.
It also sets the stage for a revision of indicators reported by the agency since 1999.
The changes are unlikely to satisfy financial markets, which have been hoping for clear signs of a change in government economic policy since Argentine President Cristina Fernandez suffered a stinging defeat in a mid-term election last month.
Boudou, who was previously head of the state pensions' agency, was named after the election, but has so far not implemented new measures or named his policy team. He has indicated that controversial Domestic Commerce Secretary Guillermo Moreno will stay on.
Moreno is the chief enforcer of the government's unorthodox anti-inflation policies and he is widely seen as masterminding the manipulation of economic data. He has managed to unify all sectors in demanding his removal.
The announcement comes the same day that Buenos Aires main daily La Nacion published a long interview with Jacob Ryten, a world expert in statistics with half a century experience in the discipline working for OECD and who has also advised China, India, Chile, South Africa, Colombia, Israel and in the eighties Argentina.
"Argentina is the only civilized country I know that the government has made a deliberate attempt, financed with public funds to misinform public opinion on such a crucial index", said Ryten who was educated at the London School of Economics.
"Lies are like a virus, once you have it, it extends to the whole body", said Ryten who revealed that in his conferences he uses the Argentine example as the worst possible case of what should not be done.
"It's impossible to believe Indec data is reliable, and unfortunately when official statistics cease to be such, they become propaganda or ideology".