Pensions for Argentine members of failed attempt to capture the Falklands in 1966
Wednesday, July 22nd 2009 - 13:38 UTC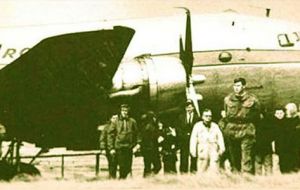 The Peronist government of the Argentine province of Buenos Aires will grant a special pension to the nationalist group of 18 civilians who in 1966 took command of a commercial flight to Rio Gallegos and had it re-routed to the Falkland Islands with the purpose of taking over the Malvinas for Argentina.
According to reports in the Argentine press the armed action was code named "Operación Cóndor", and took place September 28th 1966. Although many of the militants are dead their descendents will benefit from the "monthly social pension" equivalent to the basic salary of the provincial government staff.
On that day the Aerolíneas Argentinas DC 4 was flying to Santa Cruz with 35 passengers and the head of the operation on board the aircraft, Dardo Cabo (25 years at the time) walked into the command cabin with a pistol and ordered pilot Ernesto Fernandez Garcia the plane on course "one-zero-five".
The aircraft finally landed in Stanley's race course, stuck to the mud and was immediately surrounded by the tiny British garrison and locals. The original plan was to take over Government House with Governor Cosmo Dugal Patrick Thomas Haskard and the local armoury.
But the operation with the 18 armed invaders among which journalists, union leaders, students and workers, all of them Peronist militants, failed. The group under siege inside the aircraft refused to surrender but 36 hours later, together with the several Argentine flags that had been planted, turned in to the Catholic priest Rodolfo Roel.
At the time Argentina was ruled by a military dictatorship headed by General Juan Carlos Onganía a Catholic fanatic, admirer of Spanish dictator Francisco Franco who had deposed a civilian president Arturo Illia. A country doctor Illia was elected with little more than 20% of the vote since the dominant Peronist party was banned from all political activities. Anyhow as so many things in Argentina he was later revered as an authentic democrat.
The Falklands' Condor operation was precisely undertaken by a group of ultra nationalist Peronist militants when all political activities had been banned. On return to the mainland they faced charges but with the exception of three of them sentenced to a short period of jail, the rest were set free.
Eleven years later, January 1977, the leader of the group Dardo Cabo became a political prisoner of the ruling military dictatorship, under General Jorge Videla and was executed by one of the many death squads of the regime.
Cabo, says the Argentine press, by then had forgotten about his extreme nationalist ideas and had joined left wing Peronism, more precisely the Montoneros guerrilla organization, which was virtually annihilated during the "dirty war" by the military dictatorship 1976/1983.