Swedish made weapons sold to Venezuela turn up in Colombian guerrilla camp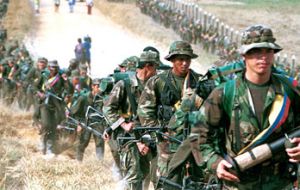 Sweden has asked Venezuela to explain how Swedish-made weapons ended up in the hands of Colombia's Farc rebels. Swedish officials said the anti-tank rocket launchers had been sold to Venezuela in the 1980s.
Colombian troops recovered the weapons in a raid on a Farc camp. Colombia has long claimed that Venezuela has backed the left-wing rebels.
The Caracas government denies this, and dismissed the latest reports as an attempt to harm Venezuela.
Jens Eriksson, a senior official at the Swedish Trade Ministry, said his government was working with Colombia "to find out how this happened".
"We have asked the officials of the government of Venezuela to give us information on how they believe this material was found in Colombia," he said.
Jan-Erik Lovgren, of the Swedish Inspectorate for Strategic Products, told Radio Sweden that the weapons had been sold to Venezuela in the 1980s.
He said the incident was a clear violation of end-user licenses and could affect future decisions on whether to allow weapons sales to Venezuela. Mr Lovgren said that no Swedish company had ever been granted a permit to sell weapons to Colombia.
On Monday, Colombian Vice-President Francisco Santos said the anti-tank rocket launchers seized from the Farc had been purchased by Venezuela in Europe.
"In several operations in which we have recovered weapons… we have found powerful ammunition (and) powerful equipment, including anti-tank weapons which a European country sold to Venezuela and which turned up in the hands of the Farc," he told Colombia's Caracol radio.
In response, Venezuelan Interior Minister Tareck El Aissami said the allegations were a "media show".
"It's part of a campaign against our people, our government and our institutions," he added.
Venezuela's Foreign Minister, Nicolas Maduro, said it was a campaign "to justify the presence of US bases" in Colombia.
Correspondents say he was referring to reports that Washington and Bogota are close to an agreement that would increase US military operations in Colombia.
Colombia has fallen out with its neighbours in the past over suspected links to the Farc movement. Colombia and Ecuador broke off diplomatic ties last year after Colombian troops raided a Farc base just over the Ecuadorean border. (BBC).-