Uruguay downgrades 2009 growth estimate to 0.7%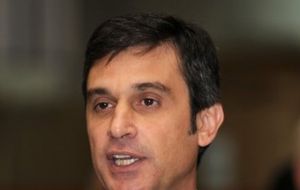 Uruguay's Finance minister Alvaro García for the third time in eight months downgraded the country's growth estimate for 2009. At a press conference following the regular Monday cabinet meeting, Gracía said that the economy will expand 0.7% this year, down from the April estimate of 2% and 3% from last December.
The minister argued that in the first half of the year the Uruguayan economy has received the full impact of the international crisis, but in the second half he anticipates "a modest come back can be expected", with a strong recovery in 2010.
García said that the team of economists and analysts from his ministry estimate "the worst impact of the financial crisis is over" although this does not mean a solution to all problems and challenges. He added that the Uruguayan economy can be expected to reach a plateau, "confirming a vision of stability", which had already been forecasted.
When he was recalled that most private analysts and even the Economics Institute from the University of the Republic had anticipated a strong downturn this year, García said that in a context of world economic instability, forecasts are downgraded several times a year and mentioned the case of the IMF, "which adjusted its estimates seven to eight time in twelve months".
The Economics Institute estimates that the Uruguayan economy will end 2009 with a negative growth of 1%. Private analysts KPGM also coincide with the minus 1% forecast and the Central Bank minus 0.5%. Ceres, a respected economics centre estimates the downfall in minus 0.3%.
However García insisted with the more optimistic outlook and pointed out that most of his ministry's forecasts proved correct:.
"We said the crisis would impact in certain sectors closely linked to exports, and in the prices of certain products, which effectively happened. The financial system has remained solid, which is the result of advanced regulations and efforts to ensure the overall banking industry".