World skyscraper construction slips 10% in first half of 2009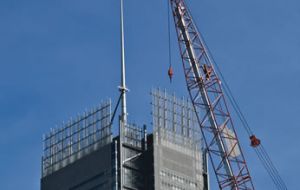 Construction on more than 10% of 1.306 planned skyscrapers was on hold at the end of June, and there were 11% fewer such projects under way compared with six months ago, according to a report released this week by Frankfurt based Emporis GmbH.
Mega-projects -- skyscrapers at least 100 meters tall -- have joined the residential housing market in recession, according to Emporis GmbH, which provides global building data.
"From January to June this year, the crisis has worsened. Not only have further projects been put on hold, but high-rise construction activity in general has decreased dramatically," the company said in a statement.
There were 1,165 skyscrapers under construction around the world in June, down from 1,307 in December. During the same period, the number of planned skyscraper projects that began construction but were on hold rose to 141 from 124.
Eight of the projects put on hold during the first half of 2009 were in the United States, where overall construction activity declined by one-third.
Only two US projects were begun in the year's first half, and one of those was a federal courthouse in San Diego.
In Europe, construction on 11 out of 112 projects was on hold; in South America six out of 75 projects were on hold, and in Asia 87 out of 764 skyscrapers were on