Russia sells Bolivia presidential aircraft similar to that of Putin
Thursday, August 6th 2009 - 16:43 UTC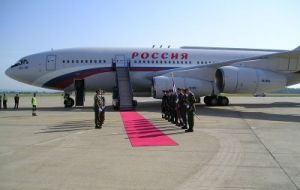 Bolivia signed this week an agreement with Russia for the purchase of a presidential jet plus military equipment and logistics backup, financed in the first leg with a 100 million US dollars credit, announced Defence minister Walker San Miguel.
The presidential jet is an Antonov, with a selling price of 30 million US dollars including a communications centre equipped with satellite telephone, internet and a conference board. It is a similar model to that used by Russian president Dimitri Medvedev and Prime Minister Vladimir Putin, according to Russian ambassador in La Paz, Leonid Gouveb.
The Antonov is scheduled to be delivered in 2011. The Bolivian presidency currently has a small US made Sabre passenger jet, from the seventies which has suffered several mechanical problems lately.
Last year when flying to New York for the annual general assembly, President Evo Morales and his delegation were forced to return to Venezuela because of a technical failure.
President Morales for his domestic movements normally uses two Super Puma helicopters, which were lent by his Venezuelan peer, Hugo Chavez. One of the choppers suffered a serious accident July last year with the loss of all the crew: four Venezuelans and one Bolivian officer.
On taking office Morales said he would not purchase a presidential aircraft adding that the funds would be invested in a new digital electoral roll call which will first be applied for the coming December 6 presidential election when the indigenous leader will bid for re-election.
Minister San Miguel said that the agreement reached with ambassador Goluveb still has some details to be ironed out as well as the credit's term and interest.
At the beginning of 2009 President Morales visited Russia where he signed with President Medvedev a wide ranging cooperation agreement which included security affairs to be covered with a specific credit.
San Miguel also revealed that Antonov was considering the possibility of establishing in Bolivia maintenance and repair centre for its commercial aircrafts operating in the region.
"We can supply any military equipment requirement from the Bolivian Armed Forces", said Ambassador Golubev. However San Miguel was quick to explain that Bolivia is not looking into improving its military might or influence, "simply replace equipment dating back 15 to 18 years".
The Bolivian minister and Russian ambassador underlined that this credit was the first technical-military accord which signals the beginning of a new "alliance" between both countries.
Besides aircrafts and military equipment the two countries oil and gas corporations, YPFB and Gazprom are in the process of consolidating a new society to explore for oil and gas reserves in Bolivian territory.