Pope triggers "scandalous poverty" debate in Argentina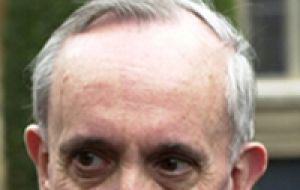 Buenos Aires province governor Daniel Scioli will be meeting this week with all Catholic bishops of his area following the controversy triggered by Pope Benedict XVI who in one his homilies spoke of the "scandalous poverty" and social inequality in Argentina.
The issue, an ongoing demand from the Argentine Catholic Church, has become an irritating issue for the government which alleges that between 2003 and 2008 poverty in the country has dropped from two thirds to one third of the population.
Whatever the definition of poverty in Argentina it ranges between 15% and 40% of the total population, (6 to 16 million people) according to the different sources.
Monsignor Jorge Casaretto an outstanding figure of the Catholic hierarchy from Caritas refuses to be embroiled in the percentages debate but insists the number keeps increasing and this is evident by the growing number of children and mothers in the network of morning milk and mid day hot meal outlets the Church manages.
Previous to the meeting with the bishops Governor Scioli is expected to announce a new "social promotion plan" to help with the "vulnerable" sectors of the most populated (and richest) province in the country, which also nests several rust belts and "misery villas" where millions of displaced and low income Argentines have built a home.
The initial reaction of the Argentine government was surprisingly to share the Pope's "anxiety" and recall how much the Kirchner couple presidencies and their model of development have done to address the issue.
However cabinet chief Anibal Fernandez also subtly pointed out it was not the first time the Pope addresses the issue of poverty, be it in Argentina or in other countries, including some of the richest in the world and mentioned some examples.
But Argentina's Cardinal Jorge Bergoglio insisted with Pope Benedict's XVI message and linked much of poverty to the ineffective workings of the political system, its recurrent sins (corruption), and called for less greed and more solidarity from the community. He demanded a greater "social inclusion" effort.
Cardinal Bergoglio's message was particularly incisive since it coincided with the peregrination to San Cayetano the saint patron who cares for the poor and the jobless.
Governor Scioli who has become a kind of political spokesperson for the Kirchner couple called on all Argentines "to be united in combating the scourge of poverty".
He promised his government will continue to work day and night to reduce poverty and indigence, pointing out that the priority was 400.000 under age "who don't go to school nor have a job" in the province of Buenos Aires.