Mujica meets President Bachelet and expresses admiration for Chile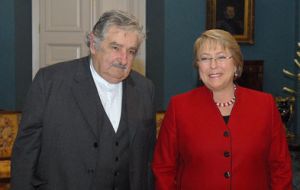 Uruguay's ruling coalition presidential candidate Senator Jose Mujica met on Tuesday with Chilean president Michelle Bachelet as part of a regional campaign to boost the Broad Front ticket. Last week Mujica and his ticket partner economist Danilo Astori met with Brazil's Lula da Silva.
"In spite of the distance, the cordillera and Argentina, we have many things in common with Chile and we had to come to talk with President Bachelet", said Mujica following his hour long meeting with the Chilean president at the La Moneda Executive Palace.
"We wanted to exchange ideas, talk about our impressions and have an idea how Chile will move into the future because we are a small country and we must be able to take advantage of all alternatives, small, large, ordinary that we can come across with", he added.
Ms Bachelet who belongs to the Socialist party together with the Christian Democrats in coalition and other smaller forces has been hegemonic in Chilean politics since the return of democracy in 1990.
However her brand of Socialism, as well as Brazil's Lula da Silva, is described as highly "pragmatic" with very orthodox economic policies. Both leaders have close and friendly ties with US President Barcak Obama as well as with his immediate predecessor George Bush.
Mujica who currently leads vote-intention polls for the presidential election of October 25th arrived Tuesday to Santiago and will be returning to Montevideo on Wednesday.
Lula da Silva and Ms Bachelet are considered success stories and examples of Socialist oriented administrations.
The two visits to probably the most successful of South American countries is an attempt by the former guerrilla leader and his political force to convince middle of the road Uruguayan voters that they can trust a second mandate from the catch-all coalition (an arch extending from radicals and former guerrillas to Communists and Christian Democrats), which took office for the first time in 2005 under Socialist President Tabare Vazquez.
Before leaving Mujia and Astori are scheduled to meet with Chilean businessmen and investors, including some of them that have assets in Uruguay.
"We have some agreements and some investments, but we want to continue along that path, to give continuity to all which has been achieved by the administrations of Presidents Tabare Vazquez and Michelle Bachelet", added Mujica.
"Chile is a spring board, Chile has many grade agreements and for us (Uruguay) it's a most interesting possibility".
Mujica, 74, is a former Minister of Agriculture and was imprisoned from 1973 to 1985, when the National Liberation Movement Tupamaros, MLN-T was defeated by the Uruguayan Army in 1972. The guerrilla movement was born in the early sixties and begun armed actions against elected governments of what was then considered the Switzerland of South America.
The increase in violence turned a nine-men Executive Council which then ruled Uruguay into a strong presidential system (copied from France's De Gaulle) that ended in 1973 when the Army, following the defeat of the guerrillas, closed Parliament and established a dictatorship which lasted until 1985.
Mujica to become the next Uruguayan president must win in October with 50% of the votes plus one, or stand for a run off at the end of November with his runner up, most probably former president Luis Alberto Lacalle from the main opposition National Party.
Opinion polls released so far indicate that there will be a runoff in November with any of the two candidates just managing to scrape through.
Mujica's folksy, down to earth style of communicating has been very effective among a significant percentage of the Uruguayan electorate. However the other half think he is sometimes too coarse, including President Vazquez who hand picked economist Astori as candidate to woo middle of the road voters.
But Mujica managed to win more than sufficient votes at the coalition's convention, congress and plenary to defeat the white collar Astori.
The Mujica-Astori headquarter have yet to announce if similar visits to other "socialist" leaders of the continent, such as Venezuela's Hugo Chavez, Bolivia's Evo Morales; Nicaragua's Daniel Ortega or Ecuador's Rafael Correa have been scheduled.