Unasur summit finally agrees on a diluted catch-all statement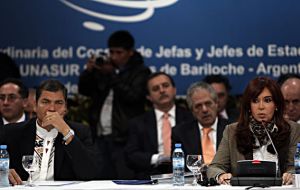 The much announced Union of South American Nations Friday presidential summit in Argentina finally issued a statement warning "foreign military forces" against threatening the sovereignty and integrity of any South American country and "in consequence regional peace and stability".
The diluted statement put an end to six hours of wrangling with Colombia defending an agreement signed with Washington that will allow the deployment of US forces in seven Colombian bases to help combat narcotics trade and terrorism, while neighbouring Venezuela and Ecuador plus Bolivia condemned it as an attempt by the US to ensure its strategic interest in South America and even beyond taking advantage of Colombian territory.
The meeting was a continuation of the failed summit in Ecuador at the beginning of the month which only managed to expose the deep differences between Unasur members regarding the specific issue of Colombia/US military cooperation but also others such as arms purchases and military and security spending and coordination without of the region sides.
The deliberate broad language, avoiding direct reference to the US military and Venezuela, permitted all twelve 12 presidents present to support the text, including Colombian President Alvaro Uribe, although two leaders, Uruguay's Tabare Vazquez and Peru's Alan Garcia left before the final "harmonious" picture.
All along Brazilian president Lula da Silva complained that a second round of speeches was unnecessary and was concerned how the press would report the following day about Unasur and regional integration, particularly since on request from Colombian president Alvaro Uribe the conference was on live television.
The leaders also instructed their Foreign and Defence ministers to meet next month and come up with a cooperation agreement that would enable the Unasur group to inspect military bases in each member country to confirm that promises are being kept.
The meeting however had some positive sides in spite of the extenuating debate.
Brazil, Chile and Argentina made strenuous demands that binding guarantees be made that the US military assets and personnel in Colombia not be used for any other purpose other than their stated mission of fighting drug-traffickers and Colombian rebels.
Uribe, responding to some of the criticism at the summit, said he would "not cede one millimeter of sovereignty" in the bases deal adding that a lease arrangement would leave the facilities under his government's control.
However the Colombian president provided few details about the 10-year base deal.
Speaking on Venezuelan state television, President Hugo Chavez called the summit "a great step that opened the gates to understanding, unity and peace — because we don't want war". He said the final resolution as "a very important gesture."
Peru and Paraguay adopted a different angle in the dispute.
Peruvian president Alan Garcia said that it was "shameful" that the region was investing 38 billion US dollars in new arms and equipments: "imagine the millions of poor people we could help climb out of destitution and give them hopes of a better life".
He also complained there was too much talk of integration but no bondage or linkage once Unasur or regional summits are over, "each president goes back to his country and does whatever he pleases".
Fernando Lugo, who came to power after a long career a priest and bishop among Paraguay's poor, also criticized the region's defence spending.
The twelve Unasur nations spent about 51 billion US dollars last year on their militaries, up 30% from 2007, according to the Centre for a New Majority, a Buenos Aires research group.
Lula da Silva said he also wants US President Barack Obama to explain what role the US will play in Latin America. "I think we have to have a good discussion with the United States." But he failed to persuade his fellow leaders to find common ground.
"One person can blame another, but that doesn't solve the problem," he said, shrugging and raising both hands. "When we're together at a table like this one, we must decide beforehand if we want to build an atmosphere of peace or of war. If it's for peace, we could put an end once and for all with all those threats and differences" he underlined.