Argentina increasingly disappointed with the Kirchners and the ruling class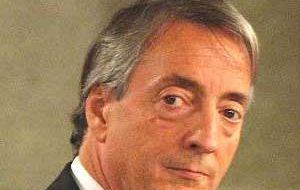 Two months after the mid term elections defeat the Argentine government has managed to recover the political initiative leaving a spastic opposition with little margin. However this has not been enough to neutralize public opinion rejection, which is similar or worse than on June 28th.
According to an article in La Nacion four pollsters coincide that since loosing in the main electoral districts, the Kirchner couple administration has been successful in its timing of political initiative: a call for dialogue with the opposition and governors, followed by a shy attempt to reinstated credibility to the Statistics Office and bold moves such as an agreement to help finance soccer in exchange for free access to matches on television plus the controversial broadcasting bill which is seen as an attempt to prune the Argentine media.
Meantime the two main opposition blocks that could easily have steered and impose the political agenda have been unable to react with their unity splintered.
This however has not prevented the negative image of the Kirchner couple from increasing accompanied by "a significant drop in government confidence and in personal expectations" according to Sergio Berensztein head of Poliarquía.
The latest reading from Poliarquía shows the confidence index in government falling 8 percentage points in July over June and a further plunge can be expected in August. For pollster Management & Fit, 64% of Argentines feel the government has not listened to the June 28th message.
Berensztein says there's a divorce between the political come back of the Kirchner administration and what the electorate feels which is deception and annoyance with those ruling, and at a higher degree than when the vote.
"This means we are entering a risk zone because when people realize that the opposition is unable to channel its message, they could become furious with the whole political system", as happened earlier in the decade.
Sociologist Graciela Römer has a similar diagnosis regarding the political initiative of government, adding that the Kirchner couple has been unable to recover support or create expectations of an improvement in the economy.
"There's uncertainty and disappointment in public opinion but neither the government nor the opposition have managed to capitalize the mid term election results", said Römer.
"People are annoyed with government, but now are also becoming frustrated because they can't see an alternative in the opposition", said pollster Hugo Haime.
This means that not only the government image is down, the other emergent figures, (presidential hopefuls for 2011) from June 28th are also suffering a loss. They include Buenos Aires mayor Mauricio Macri; Francisdo de Narvaez who challenged and defeated former president Nestor Kirchner in June; Senator Carlos Reutemann and Vice-president Julio Cobos who, in spite of certain erosion, remains the best positioned.
For pollster Carlos Fara the Kirchner couple is convinced they have already paid the political costs of the June defeat and now has taken the initiative with several projects, including Nestor Kirchner's hopes of running again for president in 2011.
Moreover in spite of financing soccer, the national passion of Argentina, all pollsters consulted believe it won't be enough. Once confidence in a government is lost, it's very hard to recover and it won't occur in a day or a month but rather on a very long process, and a path of no-return seems more obvious.