Between 1.600 and 1.700 vessels cross the Magellan Strait annually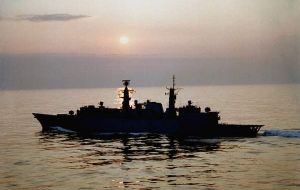 An estimated 1.600 to 1.700 vessels cross the strategic Magellan Strait annually according to the Chilean Navy that last week celebrated the 161th anniversary of its patrolling task along the country's coastline of almost 6.500 kilometres.
During a ceremony held at the headquarters of the III Naval Zone in Punta Arenas, extreme south of Chile, Captain Erwin Miranda said that it was responsibility of the Chilean Navy "to enact what the law demands according to international agreements, to the best advantage of the country".
"Our mission is to protect lives and vessels in the high seas, mainly through the search and rescue obligations we have under Chilean and international law" added Captain Miranda pointing out to the significance of Punta Arenas because of its strategic location in the Magellan Strait, that links the world's two great oceans and "has an annual maritime traffic of 1.660 to 1.700 vessels".
During the ceremony naval and civilian personnel were honoured for having participated in successful search and rescue operations.
The Chilean Navy is also responsible with its Argentine counterpart of similar safety operations, --as well as search and rescue-- in the southern seas extending to Antarctica.