China surpasses Germany as the world's largest exporter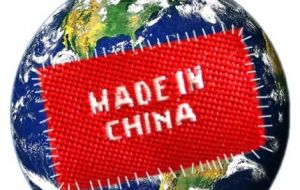 China has become the world's largest exporter surpassing Germany, the World Trade Organization has said. China displaced Germany, which held the No.1 slot since 2003, by a slim margin of 100 million US dollars after exporting goods worth 521.7 billion USD in the first half of 2009.
The latest figures have put China and Germany in a desperate race to establish themselves firmly in the top slot in 2009 end and in 2010. Independent experts including a WTO economist have said it is still too early to say China would remain ahead of Germany by the end of this year.
Since the year 2000 Chinese exports have been expanding at an annual rate averaging 25%. In the same period Germany's overseas sales increased at an average rate of 13%.
But elated Chinese economists including Li Daokui of Tsinghua University have predicted that the country will continue to grow and never give up the this special position, which it has achieved for the first time.
"The figure is not surprising, thanks to the nation's growing economic strength. And the possibility is high that the momentum will continue," Li was quoted in the official media as saying.
China will surpass Japan to become the world's second biggest economy this year if the exchange rate factor did not come in the way, Cai Haitao, inspector of the department of policy research under the ministry of commerce, was quoted in the official media as saying.
Chinese exports to all its 12 major trading partner-countries have risen rapidly in the past two years. China's share in the trade of these 12 countries including the US and European nation climbed from 16.2% during the first quarter to 19.3% in early 2008.
The WTO had predicted last July that China would pass Germany as the largest exporter in 2009. The Organization for Economic Cooperation and Development said the ratio of China's foreign trade to global trade will increase from the current 8.7% to 10% when the global economy recovers.