British consul in Basra next Falkland Islands governor
Tuesday, September 1st 2009 - 19:37 UTC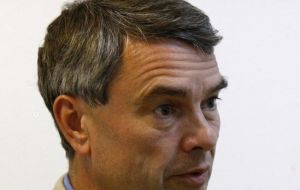 British Consul General in Basra Iraq and biodiversity conservation expert Nigel Haywood will be the next Governor of the Falkland Islands and Commissioner for South Georgia and the South Sandwich Islands.
"I am delighted and honoured to have the opportunity of serving the people of the Falkland Islands. I know it will be a challenge, but I am glad that I will have the benefit of taking over from such an able and talented diplomat as Alan Huckle, whom I have known for a long time, and, indeed, whom I succeeded at the OSCE in Vienna" said Haywood interviewed by MercoPress.
He added that he had enjoyed working in close cooperation with UK Forces in Basra - where, coincidentally, his opposite number, Major- General Andy Salmon, earned his South Atlantic Medal as a troop commander with the Royal Marines.
"I look forward to a similarly close working relationship with CBFSAI. With well over a thousand British troops in the South Atlantic, it will be important to ensure we all work together as effectively as possible. Basra taught me that if you can get that cooperation to work, you can achieve a lot."
With regard to his studies in Biodiversity Conservation he explained, "I was lucky enough to serve as Ambassador to Estonia, where balancing the need to expand the economy, in particular developing the tourism industry, with the need to ensure the country's natural assets were conserved, was a major challenge. The same challenges face the Falkland Islands, which are famous worldwide for their natural beauty. I felt that this was an area where I needed a more rigorous intellectual background, as I believe the maintenance of biodiversity to be as important an issue for the world as addressing global warming. I should add at this point how impressed I was when I read the Islands' own Biodiversity Strategy, which strikes me as a model of its kind".
Cornishman Nigel Haywood joined the UK Foreign and Commonwealth Office in 1983 before tours in Ireland, Budapest, Israel and Lebanon.
In 1992 he became Deputy Consul General Johannesburg and then Counsellor and Deputy Head of Delegation, UKDEL OSCE in 1996. He became Ambassador to Tallinn, Estonia in 2003 before his move to Basra in 2008.
He will take up post in the Falkland Islands in September 2010 at a date to be announced later.
Mr Haywood is said to be a keen sports fisherman and one of the few speakers of Cornish. He is also a marathon runner. He trained at Sandhurst military academy and spent three years in the British Army before leaving in 1980.
He is currently undertaking an MSc in Biodiversity Conservation. Mr Haywood has three sons and his wife, Louise, is a water-colourist.
Lisa Watson - SeAled PR - Stanley