Russian T-72 tanks for Venezuela; submarines and choppers could follow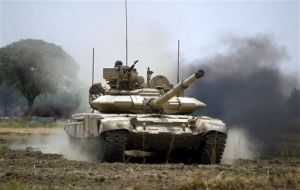 Russia and Venezuela are expected to sign a contract on the delivery of at least 100 main battle tanks worth about 500 million US dollars to the Latin American country, a Russian defence industry source said on Wednesday according to Russian news agency Novosti.
Other Russian defence sources said that the tanks deal could be expanded to include three diesel powered submarines "Kilo" class, combat helicopters Mi-28 and armoured infantry vehicles BMP-3.
Venezuelan President Hugo Chavez is expected to arrive in Moscow on Wednesday for a two-day visit as part of his 11-day foreign tour and will hold talks with the Russian leadership.
"During the visit, the sides are expected to sign a contract on the delivery of T-72 and T-90 tanks to Venezuela," the source said. Moscow and Caracas could also discuss future deliveries of Russian-made infantry fighting vehicles, the source added.
According to military experts, the T-72 main battle tanks will comprise the bulk of the deliveries because this tank is cheaper than the T-90 and better fits the demands of the Latin American market.
The price of a T-90 main battle tank, manufactured by Russia's Uralvagonzavod plant is 5 to 7 million US dollars while the price of a T-72 model is 1 to 2 million US dollars.
Last year, Uralvagonzavod produced a total of 165 T-90 tanks. Over half of the vehicles were exported, and the remaining tanks replaced some of the T-72s in the Russian Armed Forces; therefore, Russia may have enough T-72 tanks available for the sale to Venezuela.
The Venezuelan Army currently has more than 80 outdated French-made AMX-30 main battle tanks and several dozen AMX-13C light tanks.
President Chavez, who has spent billions of dollars on weapons from Russia in recent years, earlier confirmed that Caracas and Moscow were discussing purchases of Russian T-72 and T-90 main battle tanks among other military equipment.
The Venezuelan president has said the country plans to buy weaponry from Russia over a possible increase in the deployment of US military personnel in neighbouring Colombia.
Between 2005 and 2007 Russia signed 12 contracts worth more than 4.4 billion USD to supply arms to Venezuela, including fighter jets, helicopters and Kalashnikov assault rifles. Venezuela has been diversifying its military hardware purchase since 2006 when the US limited sales alleging the country's insufficient efforts in the "war on terrorism".
RIA Novosti also advanced that besides defence, Venezuelan and Russian oil companies could sign a protocol agreement for the joint exploitation of tar sands to the east of Venezuela.