Uruguayan Tourism and Business Delegation visit USA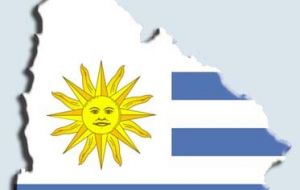 A delegation from the Uruguayan tourism and business sectors recently concluded a successful visit to Miami, Puerto Rico, and New York. The tour was organized by the Uruguayan Ministry of Tourism & Sports, in association with the Ministry of Economy & Finance, with logistical support sponsored by American Airlines.
The delegation presented investment opportunities in tourism, real estate, energy, infrastructure, outsourcing/shared services and other sectors, which has created potential new business and investment interest.
Tourism, being the "Gateway-to-Uruguay" and the country's number one industry, is Uruguay's showcase and entry-point for potential investors. Notwithstanding the delegation's priority of presenting Uruguay's business and tourism opportunities, the global economic situation; the tourism industry's international competition; and next month's election; were also popular subjects of discussion, particularly at the breakfast presentation hosted by the America's Society in New York.
A number of the tourism delegates expressed concern about the effect of the global economic and financial crisis on Uruguay's tourism industry, and some stated, "No matter which political party wins the upcoming election, it would be prudent if the next Minister of Tourism was a professional, appointed from Uruguay's tourism sector."
The ten day tour had a "spirited" finale for the delegation with a reception held at Opia restaurant on New York City's fashionable East Side. This was made possible by the generous donation of wine from Uruguay's pre-eminent wine producer, Bouza Wines, ( www.bodegabouza.com) and Bouza's USA importer, Brian Di Marco of BarterHouse, (www.thebarterhouse.com).
In conclusion, the delegation's visit, professionally orchestrated by Theresa Rice of the international public relations firm, Burson-Marsteller, can be considered a success. Uruguay's natural resources, foreign investment structures, safety, security, and its professional industry personnel, again provided the positive ingredients that the international investor seeks. A credit to Uruguay's private sector and its well-educated, creative work force.
David P. Michaels - New York
Bureau Chief, MercoPress & First Vice President, Foreign Press Association