Argentine Catholic Church says human rights are violated by extreme poverty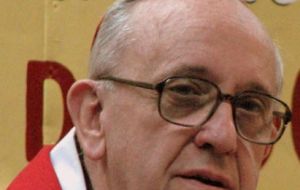 Primate Cardinal Jorge Bergoglio blasted the Argentine government saying "the social debt violates all the rights of the citizens to develop a full and active life." Argentina's leading bishop added that "human rights are not only violated by acts of terrorism, but also by extreme poverty".
During a conference Wednesday at a university in Buenos Aires, Borgoglio spared no harsh words to criticize the administration of President Cristina Fernández de Kirchner. "The government has the power to amend the damages, but it opts to worsen inequalities," the Cardinal said.
"Human rights are not only abused by terrorism, repression and murder, but also with the existence of conditions of extreme poverty generated by large inequalities," he added. The administration of Fernández de Kirchner has said the fight against poverty and the defence of Human Rights are among its main priorities.
A month ago, Pope Benedict XVI sent an open letter to the government, denouncing a situation of "scandalous poverty" in Argentina. Bergoglio reiterated that the position of the Catholic Church is "very clear" as it has "warned for some time about the social debt of Argentines."
Bergoglio described poverty as "immoral, unfair and illegitimate" and claimed it "risks the lives, the dignity and the development of human beings". The Cardinal noted an increasing social exclusion and alerted about the idea that people "have become disposable".
"Poverty is immoral, unfair and illegitimate" and such a situation puts at risk "life, dignity and the possibility of human flourishing", said the prelate adding that "social exclusion attacks the very essence of a human being and his belonging to a community, because he's no longer down or in the periphery, he's simply entirely outside".
Other speakers at the forum included Argentina's Rabbi Sergio Bergman and Peronist Senator Hilda Duhalde, wife of the former Argentine caretaker president Eduardo Duhalde.