Peru's Fujimori gets another 6 years prison now for bribes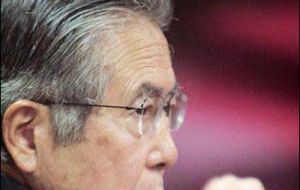 Peru's Supreme Court convicted and sentenced former President Alberto Fujimori to six years in prison for wiretapping opponents and paying bribes to lawmakers and publishers during his rule from 1990 to 2000.
Fujimori, 71, was credited with defeating the leftist Shining Path rebels in a bloody civil war that left at least 80.000 dead and taming economic chaos before his government collapsed in a corruption scandal in 2000 and he fled to Japan, where his parents were born.
Asked if he accepted the sentence, the ailing Fujimori stood up and said "I move to nullify."
The court has convicted Fujimori of ordering his former spy chief to secretly wiretap 28 politicians, journalists and businessmen; bribe 13 congressmen, and buy off a TV station and a newspaper editorial board. He was also sentenced to compensate the Peruvian state with 8 million US dollars and another million to politicians and journalists that were spied.
In two previous corruption cases Fujimori was convicted to 6 and 7 and half years in prison, but since in Peru sentences are not accumulative, the most severe will prevail which in his case is 25 years for abuse of human rights from an April conviction.