Argentine government regrets incident suffered by US ambassador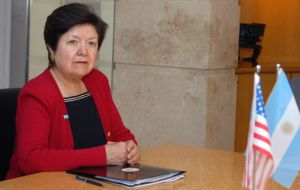 Argentine president Cristina Fernandez de Kirchner regretted last week's incidents suffered by United States ambassador Vilma Martinez and said "in all places there are always intolerants".
The comments were made during Monday's protocol ceremony at Casa Rosada when Ms Martinez presented her ambassador credentials to the Argentine president.
The meeting between the two ladies was the first since the US ambassador arrived in Buenos Aires and happens just a few hours after an understanding was reached at the US owned Kraft plant, which has been under labour strife for weeks.
Mrs. Kirchner following the ceremony talked with the press and praised Ms Martinez, "a woman committed to human rights, to women and workers so they are not discriminated".
In spite of the Thursday incidents at the University of Cuyo, Mendoza, where the ambassador was unable to give a lecture and was just spared from a full tomato hit, Mrs. Kirchner said "Ms Martinez was very pleased to have visited Mendoza, where she plans to return". She also anticipated that once her children arrive in Buenos Aires, "she is planning to take them to Patagonia".
However contrary to what was expected and is normal in this kind of ceremonies, there was no private interview in the presidential office with ambassador Martinez.
Although following the incident in Mendoza there was no immediate reaction from the Kirchner administration, cabinet chief Anibal Fernandez revealed he had contacted the ambassador on Saturday to express support from the Argentine government and described the incident as "embarrassing".
But that was not the only incident last week. The head of the main opposition Radical party Senator Gerardo Morales was forced to cancel a conference in the northern province of Jujuy following an organized attack by local pickets.
Cabinet chief Fernandez condemned the attacks of approximately thirty pickets that destroyed the conference hall and even threatened Senator Morales. However Morales later claimed that his attackers were led by a woman who is "on government payroll".
"Milagro Sala has a direct line with Nestor, Cristina and Alicia Kirchner", claimed Morales in a political program. "She rules Jujuy, she has a mafia organization and if you disagree with her, she moves in and attacks your home".
Senator Morales made an official accusation at the local police station and called Fernandez a hypocrite. "When he was Minister of Interior he was the first on the phone to have Ms. Sala released whenever she was in trouble; he knows very well all the characters involved in this game".
Ms Sala publicly admitted that her organization in support of Jujuy province unemployed receives financial support from the Kirchner administration to the tune of three million US dollars monthly.