Uruguay votes for President and a new parliament on Sunday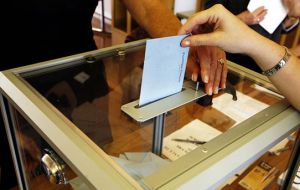 An estimated 2.6 million out of a population of 3.2 million Uruguayans are registered to vote on Sunday's election that will decide on the successor of President Tabare Vazquez and a new parliament. Voting in Uruguay is compulsory.
Five are the presidential candidates representing five political parties, the three major ones which have been in office, National, Colorado and the current Broad Front coalition plus the Independents and an extreme left grouping splintered from the Broad Front.
Incumbent Jose Mujica leads public opinion polls and is favoured to defeat Luis Alberto Lacalle from the National party. They are followed by Pedro Bordaberry from the Colorado party, Pablo Mieres, Independents and radical Raúl Rodríguez. However if no candidate manages 50% of the vote plus one, a run-off is scheduled for the last Sunday of November.
The Uruguayan Electoral Court has organized 6.868 voting circuits, of which 2.650 in the capital Montevideo. Election Day will have 48.000 people directly involved in the voting process mainly at the polling booths and security personnel.
Voting begins at 08:00 hours and closes at 19:30 hours while the first results can be expected at 21:30 hours with updates every 15 minutes, according to members from the Electoral Court.
Final results should be available early Monday morning, October 26th.
This is the sixth general election in Uruguay since the return of democracy in November 1984. The Colorado party won the election of 1984, 1994 and 1999, the National party in 1989 and the Broad Front in 2004.
The Uruguayan electoral system based on laws dating back to 1924 and 1925, is considered one of the most transparent and fraud-proof which grants the most guarantees to political parties and voters.
On Sunday Uruguayans will also vote on two referendums. One of them to annul a bill which under certain circumstances prevents military and police officers involved in alleged human rights abuses during the military regime years (1973/1984) from being charged and taken to court.
The 1986 bill ratified by a referendum in 1989 matched a 1985 amnesty extended to all those involved in guerrilla and "unconstitutional" activities since the early sixties.
The issue is still highly controversial as is Uruguay's recent past when armed groups tried to take government through violence and force when the country was considered a show case of democracy and governance.
According to the latest public opinion polls before the 48 hours ban on all political activities, support for the annulment is 45%, but those against and undecided are a majority.
During the military dictatorship 38 Uruguayans disappeared in the country; 182 in Argentina; 8 in Chile; 2 in Paraguay and one in Brazil, according to human rights groups. At the time all countries were ruled by military regimes and there was close collaboration in hunting and eliminating dissidents and opponents.
The other referendum is also linked to consequences of the military regime but is not so controversial: it refers to granting the postal vote to overseas Uruguayans. It is estimated that anywhere between 10 and 12% of the Uruguayan population migrated either for economic or political reasons. If they return on Election Day they can vote, but the idea is to give them the possibility of voting in consular offices overseas or by post. Opinion polls show a 47% support for the initiative.