Housing sales up 13% in Greater Santiago area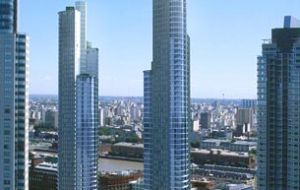 House and apartment sales in the Santiago Metropolitan Region have increased by 13.1% compared to 2008, the Chilean Chamber of Construction announced last week.
Chamber President Lorenzo Constans attributes the better-than-expected rise in sales to the economic policies put forth by President Michelle Bachelet's government, as well as other factors that signal a possible improvement in Chile's economic state.
"These sales figures are best explained by the maintenance of promotional campaigns for real estate companies, the positive impact of state subsidies, good monetary policy conditions and the gradual normalization of access to credit for people" Constans told Radio Cooperativa.
"For the first time this year we believe that the real estate industry will close this period with positive results, compared with 2008, which was first affected by rising inflation and then by the first effects of the economic crisis internationally."
Bachelet and Finance Minister Andrés Velasco, (a former Harvard professor and one of the only members of Bachelet's original cabinet to still have his job), have spent extensively on economic stimulus packages financed by billions of dollars in copper windfall profits.
"Today we face the international crisis with an orderly house and important strengths," Undersecretary of Finance María Olivia Recart told BBC Mundo. "Banking markets, pension and securities are regulated and there's a central government debt equivalent to 3.5 percent of GDP, almost the lowest in the country's history."
By Daniel Zarchy - Santiago Times