Uruguay's flag carrier Pluna flies cargo between Santiago and Punta Arenas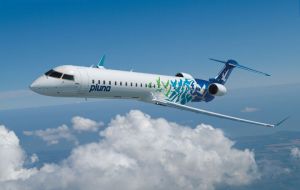 Pluna, Uruguay's flag carrier began this month commercial cargo flights between Santiago and Punta Arenas in the extreme south of Chile and has plans to incorporate passengers in the near future, reports La Prensa Austral.
The Uruguayan company has an agreement with Chile's Sky Cargo and has twice a week nightly flights. Sky cargo provides the logistics and commercial infrastructure. Flights are scheduled to arrive 04:00 in the morning and return to Santiago an hour later.
The team up of the two airlines is based on an open skies agreement between Chile and Uruguay.
Pluna flies multipurpose Canadian manufactured Bombardier CRJ900, and the link between Santiago and Punta Arenas is the company's first inside Chile and the second between two non Uruguayan cities.
In its first flight the Pluna aircraft transported newspapers, magazines, documents taking advantage of the cargo seat-container system, by which seats are used for cargo.
In its return flight to Santiago the aircraft carried five passengers.
Apparently in December Pluna will begin a passenger service, from Punta Arenas to Santiago. However Punta Arenas airport authorities said the company has not supplied flight schedules nor has it requested an office or counters for checking in passengers.
For the inaugural flight officials from the Chilean and Uruguayan Civil Aviation agencies travelled with Pluna to Punta Arenas.