Argentina/Brazil clash over trade restrictions: what restrictions?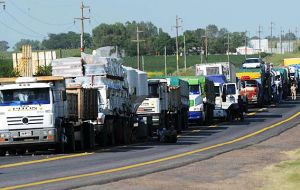 Brazilian Minister of Development Industry and Trade, Miguel Jorge confirmed Thursday that the Brazilian government is requesting non automatic licenses for some imports from Argentina, but denied it was a reprisal because of similar measures imposed by Argentina.
"It's not a reprisal; we can't talk about reprisals", said Minister Jorge who nevertheless added he expected the Argentine government to reflect about the restrictions policy.
"Expectations are that Argentine imports (with the non automatic licences) will take some more time before entering Brazil", said Jorge when asked specifically about Argentine trucks delayed in frontier crossings.
Until now imports from Brazil's main trading partner in Mercosur had access as if they enjoyed automatic licences, since much of the documentation was not requested at border crossings by Customs.
The measure is similar to one imposed by Argentina over a year ago now on several Brazilian products which must show non automatic licences to have access to the Argentine market.
Argentine restrictions have come under severe criticism from Brazilian businessmen and in spite of President Lula da Silva administration's warning that it could apply similar procedures so far, it had abstained from any actions.
The announcement was made last January but was never made effective, demanded non automatic import licences for 17 different sectors such as plastics, rubber, iron, steel, capital goods, equipments and electronic gear.
Minister Jorge did not reveal if the restrictions and delays which began last week are extensive to the whole line of products. Argentine sources said the measures apply to garlic, wine, wheat flour, olives, different cooking oils, processed food and pet food.
The Brazilian measure became effective with no previous public announcement, surprising Argentine businessmen and officials.