US will recognize Honduras election with or without reinstated Zelaya
Friday, November 6th 2009 - 10:38 UTC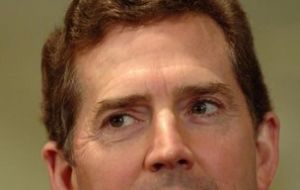 United States will recognize the Honduran elections results regardless of whether former President Manuel Zelaya is returned to office and regardless of whether the vote on reinstatement takes place before or after November 29th, according to Republican Senator Jim DeMint who claims he was given guarantees to that effect by the US State Department.
"Secretary Clinton and Assistant Secretary Shannon have assured me that the US will recognize the outcome of the Honduran elections regardless of whether Manuel Zelaya is reinstated. I take our administration at their word that they will now side with the Honduran people and end their focus on the disgraced Zelaya" said the conservative Senator from South Carolina.
"I am happy to report the Obama Administration has finally reversed its misguided Honduran policy and will fully recognize the November 29th elections" added Senator DeMint.
"Given this commitment, which Senator DeMint has requested for months, he will lift objections on the nominations of Arturo Valenzuela to be Assistant Secretary of Western Hemisphere Affairs and Thomas Shannon to be US Ambassador to Brazil".
The Honduran congress is expected to take a vote on the reinstatement of ousted president Zelaya, following consultations with the Supreme Court.
"My goal has always been to work with the administration to get the policy on the Honduran elections reversed. Now that this goal has been achieved, I will lift my objections to the two nominations.
"This marks an important step forward for the brave people of Honduras. They are proving, despite crushing hardship and impossible odds, that freedom and democracy can succeed anywhere people are willing to fight for it", adds the release.
"The independence, transparency, and fairness of their elections have never been in doubt. And now, thanks to the Obama Administration's welcome reversal, the new government sworn into office next January can expect the full support of the United States and I hope the entire international community."
"I trust Secretary Clinton and Mr. Shannon to keep their word, but this is the beginning of the process, not the end. I will eagerly watch the elections, and continue closely monitoring our administration's future actions with respect to Honduras and Latin America."