Extraordinary OAS meeting to consider the Honduran situation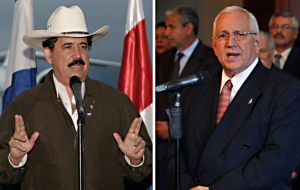 The Organization of American States Permanent Council will hold an extraordinary meeting Tuesday to assess the situation in Honduras following the interruption of the process agreed by both sides to end the several months political crisis.
In last Wednesday' session several countries such as Venezuela, Bolivia, Nicaragua, Ecuador and Brazil expressed concern because of the delay in the implementation of the much worked Tegucigalpa/San Jose accord.
The council requested a new report on the situation from OAS Secretary General Jose Miguel Insulza and reaffirmed that the November 29th election results will not be recognized unless ousted president Manuel Zelaya is reinstated in office.
The concern made public before the deadline for the conformation of a national unity and reconciliation government, November 5, has intensified since the interruption of the implementation that had been agreed by delegates from Mr. Zelaya and the head of the de facto government, Roberto Micheletti.
The accord was declared dead by Zelaya after both sides could not agree on the formation and presidency for a national unity government to oversee the elections until mid January when the newly elected leader is scheduled to take office.
Micheletti tried to name the unity government with him as president and no representation from Zelaya, which was immediately rejected by OAS Insulza who called on both sides to take things seriously and stop delaying the process. Insulza reiterated that the transition government must be headed by who was legitimately elected by Hondurans, Mr. Zelaya.
However there are differences of interpretation: Zelaya insists he must be reinstated, but it must first be approved by Congress, as established in the accord. The de facto regime argues Congress has no timetable to decide on Zelaya and therefore Micheletti presides over the transition government. He also accuses of Zelaya of not presenting any names for the unity and reconciliation government.
Meantime the de facto regime has sent a letter to Mr. Insulza requesting the OAS send observers for the coming election, and a left wing presidential candidate, Carlos H Reyes from the Resistance Front and close to Mr. Zelaya announced he was stepping down because the agreed conditions to overcome the situation were not being complied.
Meantime the other presidential candidates from the conservative and liberal parties continued on the campaign trail and it's hard to anticipate a congressional session since on November 29th the one house Honduran legislative has to be completely renewed.