Honduras US Supreme Court deliberates on Zelaya's reinstatement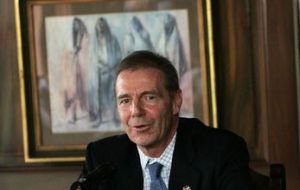 The Honduras Supreme Court begun to consider late Wednesday if ousted President Manuel Zelaya should or should not be reinstated, a crucial step in the process to help overcome the four-month political crisis that has virtually paralyzed the Central American country.
The Congress requested non binding opinions from the Supreme Court and the Attorney General Office regarding Mr. Zelaya, following on an agreement reached October 30 between representatives from the ousted leader and the head of the de facto government, Roberto Micheletti.
The agreement was brokered with strong support (and pressure) from the Organization of American States and the US State Department.
Danilo Izaguirre, spokesperson for the Supreme Court confirmed the judges were in session considering the Congressional request on Zelaya's possible returning to office.
Last June 28th Mr. Zelaya was flown out of the country at gun point to Costa Rica by the military acting on orders from the Supreme Court that accused the president of ignoring the constitution for having sponsored a referendum allegedly intended to open the possibility of Executive re-election.
However in spite of the crisis and international warnings that the November 29th presidential elections would not be considered legitimate unless Zelaya is reinstated, candidates continue with their campaigns while the US argues that the elections are part of the solution to the current situation.
State Department officer Craig Kelly who on a brief two day visit to Tegucigalpa said that elections "are part of the solution but we want to advance with the greatest international support possible"
He added "we think it's important to continue the conversations; there's still a lot of work to be done along the way…I believe it is important for both sides to keep talking", said Kelly after meeting with Micheletti and Zelaya who is holed in at the Brazilian embassy in Tegucigalpa.
However Zelaya has stated that talks "have come to an end".
According to the agreement Zelaya and de facto authorities had to agree on "a unity and reconciliation caretaker government" until January when the newly elected president will be taking office.
But no understanding has been reached since Zelaya insists he must first be reinstated and claims Micheletti is "playing games to delay decisions".
"I will not sit to dialogue with coup sponsors and participants", Zelaya was quoted Wednesday by local radio stations.