International Liberal support for Micheletti and Honduras election
Monday, November 16th 2009 - 23:50 UTC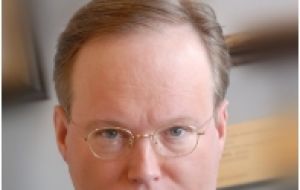 Honduras de facto leader Roberto Micheletti has been named vice-president of the Liberal International organization in spite of the fact he is not recognized by a majority of the international community.
"It was a pleasure to announce that the congress of the International Liberal organization, two weeks ago, chose Roberto Micheletti as one of the vice-presidents", said Hans Van Baalen president of the Liberal International after a meeting with Micheletti who last June was named Honduran caretaker president following the ousting of elected president Manuel Zelaya.
"With his courage President Micheletti has made possible the democratic election process in Honduras, next November 29th, this is an enormous and brave action in favor of democracy" added Van Baaten who is also a member of the European Parliament.
He announced the International Liberal would be sending observers to the coming November election, which the international community has threatened not to acknowledge if Mr. Zelaya is not reinstated to office.
Mr. Zelaya and Mr. Micheletti both belong to the Honduran Liberal party.
"The free and transparent elections of November 29th and the proclamation of a new president will complete the institutional and constitutional return process in Honduras", said Van Baaten.
He said that the Liberal International has among its members the Liberal parties from Germany and Britain and also "very strong links with the Democrat party in the United States and was confident that "the international community will end by recognizing the Honduran election".
The Liberal leader criticized biased Organization of American States, OAS, for "having openly and strongly supported former President Zelaya" instead of counseling him "not to try and change the Constitution illegally".
The president of the Liberal International while in Tegucigalpa met both with Michelleti and ousted Zelaya.
According to an official report from the Liberal organization during meetings with Van Baalen, "Zelaya and Micheletti both signified to be willing to discuss the political situation in their country with each other as Liberals and Zelaya said to consider accepting the result of the upcoming Presidential election on 29 November".
Van Baalen was the first European politician to gain access to Zelaya, who is currently a resident at the Brazilian embassy in the Honduran capital.
"Liberal International will be present with a delegation of observers during the elections to oversee they are conducted in a free and fair fashion. Interim President Micheletti will effectively become one of the Vice Presidents of Liberal International in January 2010, after he has stepped down in favor of the newly elected President of Honduras".
Van Baalen condemned the fact that Zelaya had violated the Honduran constitution, but strongly advocated a reconciliation of all Honduran liberals after the election.
According to Van Baalen, the Organization of American States (OAS) is strongly biased towards supporting (Venezuela's Hugo) Chavez and (Nicaragua's president Daniel) Ortega.
Van Baalen said that when the upcoming elections in Honduras will be free and fair, "their result should be respected by the European Union".