Desalinization plant in north Chile to support iron mining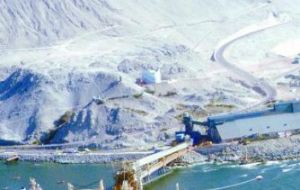 CAP, one of Chile's largest mining companies, announced plans this week to construct a 250 million US dollars desalinization plant to provide water for its iron mining operations in Chile's northern Atacama area (Region III).
Over 750 workers will construct the plant, an underwater emission pipe and a sea-water collection facility near the town of Puerto Totoralillo. A 120 km aqueduct will then transfer the water to Cerro Negro Norte mine in the Copiapo Valley.
On completion the plant will employ over 60 people in three shift patterns. Over 50% of the mine's water needs will be supplied by the project, which CAP hopes to be operational by 2012.
The desalination plant forms part of a bigger project by CAP's mining subsidiary CMP to increase annual iron production in the Copiapo valley to four million tons within the next four years.
Water scarcity is a growing issue in Chile's north. Recent studies suggest water resources in the region have halved, causing local politicians to urge the government to nationalize water supplies.
Water resources in the Copiapo Valley, home to Chile's early table grape deal and other fresh fruit exports, are considered critically low. Fruit growers and municipal authorities insist that huge water consumption by local mining facilities is responsible.
"Mining firms need to invest in water resources for the future of their business" said the director of the Universidad de Chile's mining department Gustavo Lagos.
"Desalinization is certainly an option they can investigate."
Another desalinization project is being considered for Chile's biggest mine, Escondida, in Region II, owned by BHP Billiton.
CAP operates as a holding company within the mine and steel sectors. Mining subsidiary CMP exports raw mineral material primarily to Asian markets, while other holdings produce and export steel globally.
CMP recently reported profits of 62 million USD for the first nine months of this year, almost half the figure reported for the same period in 2008. Total income over the January-September period was down 80 million USD from last year. Parent company CAP reported losses of 52 million USD up to September this year, mainly due to a decline in steel prices.
By James Fowler - Santiago Times