"Passion mousse" (containing Viagra) an instant success in gastronomy fair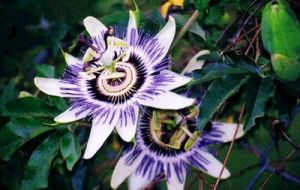 A dessert under the name of "Passion mousse made out of Viagra and Mburucuyá (Passion flower) fruit, the inspiration of four gastronomy students has been the great success at Bogotá, Colombia, national Gastronomy Fair which closed this week.
Apparently the recipe was born out of an academic project for the creation of an energizing dessert targeted for the over sixties.
"We were thinking about something original and we came up with the idea of a Viagra mousse", said Sebastián Gómez one of the four students, ages 17 to 23, involved in the project.
"We also chose mburucuyá because of its aphrodisiac conditions and the fact it is more identified as passion flower", added Gomez.
"We had people taste the passion mousse and since it contained Viagra we were very careful to warn about ethical and medical limitations, particularly for those with a heart condition or high blood pressure".
But in spite of success, there has also been a high degree of controversy since doctors interviewed by the Bogotá media said it was not adequate that food should contain a component like the popular blue pill, --for erection malfunction--, since this a medicine that can only be delivered (in Colombia) with a medical prescription.
Gomez said that from the very beginning of the project the group was lectured on the matter and had medical overview regarding doses, "how many milligrams per person is tolerable and recommendable".
"We very careful in the doses because we didn't want to fall short or create extreme reactions, so we agreed on a scientific tested 50 milligrams per person. You must also remember than when mixed with milk the component further dissolves", argued Gomez.
Nevertheless the hopeful chef admitted that "it could be positive to have some more research on the passion mousse", and revealed so far no orders for the energizer had been received.
The passion flower fruit mburucuyá is widely extended and consumed in South America.