Venezuela's Chavez steps up program to confiscate "idle land"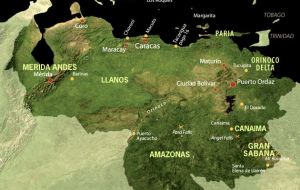 Venezuela's Landholdings Institute and the National Guard occupied in the last few days at least 31 farms in different states including one belonging to opposition leader Manuel Rosales, currently exiled in Peru.
According to Agriculture minister Elías Jaua these actions are part of the idle lands' "recovery" policy or when the land registry or property titles do not abide by law.
Jaua said that to the south of Lake Maracaibo in the states of Zulia, Merida, Trujillo and Tachira, 16 farms, totalling 20.000 hectares, had been intervened.
In the state of Guarico another nine and in Barinas, al least six; besides in Zulia the deeds of another twelve farms are under investigation.
"We are acting in the framework of the rule of the law: nobody is above the law, be it the leader of the opposition or a high official from government", said Jaua.
However Zulia governor Pablo Perez said that the farm "La Milagrosa" belonging to Mr. Rosales was occupied last Sunday by the National Guard in a clear political action which can only be described as "an assault and plain confiscation".
Another farmer, from Guarico, Blas Perez said it was a set up since in his case the land was fully productive "with beef cattle, corn and wheat, there's no idle patch of land in my farm"
The Venezuelan government of President Hugo Chavez announced earlier this year that the "idle land" to be rescued this year totals approximately 300.000 hectares.
The opposition calls the policies "plain confiscation or plain expropriation". The policy has been stepped up lately.
However critics argue this policy can only lead to an increase of Venezuela's food dependency and foreign imports since lands intervened by the government rapidly become idle and unproductive.
It is estimated that since Chavez took office in 1999, an estimated 2.5 million hectares of good farmland have been taken over.
Meantime in the capital Caracas there are growing complaints that political polarization, the so called "Ideological Berlin Wall" is turning the city unruly and unliveable, since the elected officials from different counties are unable to agree on common policies.
Insecurity, collapsing traffic, lack of housing, insufficient basic services and missing agreements on distribution of water, power and organizing garbage disposal have become chaotic as each county acts on its own, ignoring the rest.
"With no policies' articulator for the different counties, it's useless trying to rule the city. I pity the five million Caracas residents", said political analyst Jose Carrasquero.
The situation became particularly serious following the November 2008 municipal elections.