President Vazquez will personally congratulate his successor Sunday night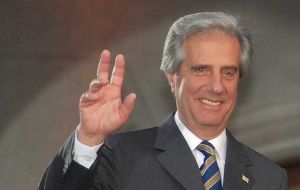 Uruguayan President Tabare Vazquez will personally congratulate the winner of Sunday's presidential election run-off, which has two hopefuls: the ruling coalition Jose Pepe Mujica who leads with a comfortable margin in public opinion polls, and the opposition candidate Luis Alberto Lacalle.
President Vazquez made the announcement during the regular Monday morning cabinet meetings. The decision to visit the winner at headquarters campaign has no precedent in Uruguayan political history.
Senator and former guerrilla leader Mujica, 74, in the first round of October was only two points short from the 50% plus one vote needed to avoid a run-off a month later. This percentage however ensured the ruling coalition a majority in both houses of Parliament.
If Mujica wins on Sunday he will be president of the second running government from the Broad Front, a catch-all coalition (from former guerrillas and communists to Christian Democrats), following on the historic victory of President Vazquez in October 2004, who avoided a run off since he garnered 50.7% of the vote.
Vazquez said his decision must be interpreted as a "courtesy gesture" to the winning ticket and under no circumstances represents a "transgression" of the Constitution.
Outgoing Vazquez who will be leaving his five year post next March first has an unprecedented public opinion support of 70%, the highest in his five year term.
The latest opinion polls before the beginning of the 48 hours ban on all political activities and electoral campaigning next Thursday zero hour, has Mujica with 49 to 51% of vote intention while his rival Lacalle figures with 42/43% according to the different pollsters presentations Wednesday evening in Uruguay's three open television channels.
The non-committed are 9 to 10 percentage points and include the undecided and the blank or spoilt votes.
Projecting the non committed, Lacalle climbs two to three points but is insufficient to catch Mujica including the plus/minus three percentage point margin of error.
However all pollsters point out that the run-off electoral campaign has been "flat, poor, vague and non committed", and at the same time there's ample evidence that the two candidates have a significant percentage of followers in their parties that do not entirely accept them.
"This is sustained by the fact that support for both the incumbent and opposition candidates in the run-off remains virtually unchanged, almost frozen, while the uncommitted, with less than a week for voting day, remain a steady almost nine points", said Eduardo Gonzalez from Cifra.
The undecided can be expected to vote for Lacalle in a ratio of 3 to 1, but the percentage of blank and spoilt votes could anticipate a significant surprise for the Uruguayan political system based on past elections.