Pope says treaty between Argentina and Chile was 'an example of peace before barbaric violence'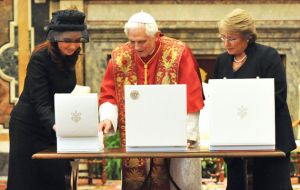 Pope Benedict XVI hailed a 1984 Vatican-mediated friendship agreement between Argentina and Chile as a "luminous example" of peace winning out over war during an audience Saturday with the presidents of both countries.
In 1978, when both nations were ruled by military dictators, Chile and Argentina nearly went to war over three tiny islands in the Beagle Channel off Chile's southern Pacific shores. The dispute was solved by mediation by Pope John Paul II in 1984.
Benedict marked the 25th anniversary of the treaty during a Vatican audience Saturday with Presidents Cristina Fernandez of Argentina and Michelle Bachelet of Chile. The Vatican said the pope met with each president separately, then delivered his speech to their joint delegations in the Vatican's Clementine Hall.
Benedict called the agreement a "luminous example of the strength of the human spirit and the desire for peace over the barbarity and uselessness of violence and war."
Quoting the World War II era pontiff Pope Pius XII he said: "Nothing is lost with peace; everything can be lost with war."
But he said that for peace to be consolidated, there needs to be a fight against poverty and corruption, guaranteed access to education, economic growth and the eradication of violence and exploitation of women and children.
Dressed in black, the two presidents also prayed before John Paul's tomb in the grottos underneath St. Peter's Basilica and visited the Vatican hall where the peace agreements were signed Nov. 29, 1984.
Upon arriving in Rome, the Argentine chancellor Jorge Taiana said the audience would be "a historic round of much joy and renewed alliance as we stop and think about how far we've come in the last 25 years."
John Paul intervened in the dispute in 1979, a year after he was elected pope, and the treaty signing some five years later marked his first concrete diplomatic achievement.
The Beagle negotiations marked the first papal mediation of a territorial dispute since Pope Leo XXIII stepped into a Spanish-German controversy over the Caroline Islands in the Pacific in 1885. (Agencies)