Ibero-American summit divided over the Honduras political situation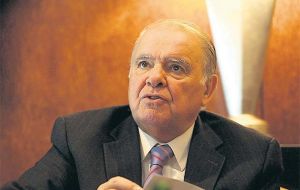 Portugal's Foreign Affairs Minister Luis Amado said on Monday that Portugal is working as a mediator among Ibero-American countries to achieve a consensus on the Honduras political situation that is threatening the 19th summit's final declaration.
"The goal of the Portuguese presidency is to find a common ground on the political situation in Honduras and not only referred to the recent elections occurred in the country" Minister Amado told the press.
The minister added that "at the moment the members have very different positions" which may pose some difficulties to achieve the joint declaration.
Spanish Minister of Foreign Relations Miguel Angel Moratinos declared that "Spain neither recognizes nor ignores the elections occurred in Honduras".
"The goal we all share is to achieve a political solution for Honduras" said the head of the Spanish diplomacy, adding that from the elections will emerge a new actor to dialogue with deposed President Manuel Zelaya.
Minister Amado pointed out that Portugal acting as mediator cannot talk about the elections, since its goal is "to listen to the positions of all involved parties, particularly Honduras' neighbouring countries" in order to achieve, by tomorrow, an official position of the summit which is positive for "the development of a political and diplomatic process which allows the stabilization of Honduras".
The 19th Ibero-American summit hosted by Portugal is taking place at the Estoril sea resort.
Ibero-American Secretary-General Enrique Iglesias admitted deep differences but said he was hopeful a solution can be expected for Tuesday. He also admitted that the relevance of the Honduran political situation was not in the original agenda of the summit which gathered representatives from 22 Ibero-American countries.
All Ibero-American countries (Latinamerica, Portugal, Spain and Andorra) originally condemned the coup which ousted President Manuel Zelaya and demanded his reinstatement in office. However in the past week Costa Rica, Panama, Colombia, Peru following the United States, announced that they would recognize the results of Sunday's elections, creating a rift in the region.
He added that, besides the Honduran issue, the representatives gathered in the summit discussed themes such as the international financial crisis and the upcoming United Nations Climate Change Conference. Iglesias praised the initiative of the Amazon Summit, which took place last week in Manaos, Brazil.