Spanish Judge Demands US$77 Million From Pinochet's Wife And Advisers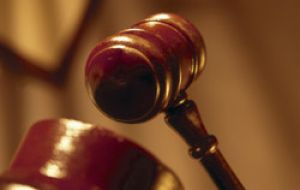 Spanish judge Baltasar Garzon on Monday demanded that the widow and advisors of former Chilean Dictator Augusto Pinochet pay US$77 million to a Spanish charity for his regime's victims within the next 10 days.
If the money is not paid, the dictator's widow, Luicia Hiriart, and three associates, Oscar Aitken, Pablo Granifo and Hernan Donoso, will all face extradition to Spain on charges of embezzlement and money laundering and will have up to US$25 million worth of their assets frozen.
The judge intends to visit Chile with colleagues from the Spanish high court to oversee investigations against the four charged.
The money is sought by Spanish organization Foundación Salvador Allende to compensate the families of Spanish nationals killed during Pinochet's regime, which began after the 1973 military coup that toppled elected president Allende. This is the latest of Garzon's charges against Pinochet and members of his inner circle.
Garzon arranged for the 1998 London arrest of the dictator on charges of genocide and terrorism. Pinochet was released after 16 months of extradition proceedings, but he was facing charges of tax evasion, embezzlement and money laundering until his death in 2006.
His family members and former legal advisor Aitken were acquitted of wrong-doing in previous cases and therefore cannot face retrial in Chile. However, evidence has emerged in recent years that Pinochet amassed a fortune in kick-backs from international arms deals and misappropriation of public funds. This wealth is apparently held in bank accounts all over the globe.
In 2005 the Salvador Allende charity received US$9 million after American-based Riggs bank was found guilty of holding illegal accounts for Pinochet. Following on from that case the organization petitioned Spanish courts to bring similar charges against Chilean Banco de Chile and two of its subsidiaries. Garzon postponed the case so that individuals at the bank could be identified and evidence collected against them.
Two of those charged yesterday are high-ranking officials at the Banco de Chile. Granifo is currently the firm's president, while Dononso is a former head of the bank's US operations. The bank was acquitted of wrongdoing in a 2006 US investigation into money laundering allegations against the bank's New York operations (ST. Oct 5, 2006).
Corruption charges also continue to emerge in Chile, with the arrest earlier this year of a former military aide to the dictator accused of misappropriating up to US$20 million in public funds. Human rights investigations against former secret police agents are also ongoing (ST. Sept 3).
In September 2008 the Chilean government announced that it would seek the return of US$26 million held in secret accounts for Pinochet from the Miami branches of four different banks including Banco de Chile and Spanish bank Santander (ST. Sept 30, 2008).
The Pinochet family has always denied corruption accusations made against the late dictator, insisting thatt heir private wealth was accumulated thanks to financial prudence and wise investments.
By James Fowler - Santiago Times