Venezuela shuts down banks belonging to former Chavez crony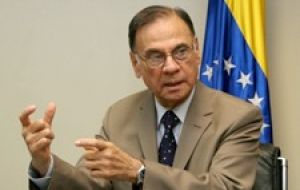 The Venezuelan government has shut down four private banks, accusing them of financial irregularities. The closures come 10 days after the authorities took over the banks on suspicion of violating regulations.
The banks are owned by a group of investors led by businessman Ricardo Fernandez, who is under arrest on charges of misappropriating funds.
Two banks, Provivienda and Canarias, will be liquidated. The others, Bolivar and Confederado, may be rescued.
Finance Minister Ali Rodriguez said the "negative performance" of the banks made it necessary to stage a "closed-door intervention".
The assets of Canarias and Provivienda would be auctioned off, but the problems at Bolivar and Confederado were less severe, he added.
The four institutions account for about 6% of the Venezuelan banking sector.
The four banks are not the first Venezuelan financial institutions to have been taken into state hands.
In May, the government nationalised the country's third-largest lender, Banco de Venezuela, after agreeing to pay over one billion US dollars to Spanish owner Banco Santander.
Since 2006, President Hugo Chavez's government has also acquired Venezuela's biggest telecommunications, electricity and steel companies, as well as major oil projects and large allegedly idle farms with the purpose of creating a state-run economy.
However, the latest bank takeovers stem more from owner Mr Fernandez's deteriorating relationship with the Chavez administration, according to analysts.
Until recently, Mr Fernandez was on good terms with the government. He also owns a number of food companies that supply products to the country's state-run Mercal supermarkets.
But now he and his lawyer, Jose Camacho, are awaiting trial on charges of misappropriating deposits and providing loans to other businesses in which they are investors.
When the government took over the banks on 20 November, it said they had not properly explained increases in capital and were in breach of various other regulations.
Mr Rodriguez said most of the banks' 725,000 account holders would be protected by the government's deposit guarantee fund.