US unemployment in October remains above 10%: mixed reactions
Saturday, December 5th 2009 - 02:36 UTC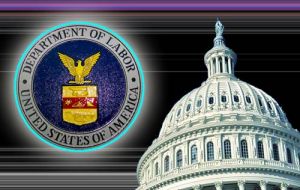 The US unemployment rate fell in November to 10% from 10.2% in October, Labour Department figures show. Employers in November cut the lowest number of jobs since the recession began in December 2007.
In all, 11,000 jobs went over the month. That was far fewer than had been expected by most analysts.
However, for an economy the size of the US, the change was so small that the Labour Department described it as "essentially unchanged". Payrolls have fallen every month for almost two years, but this year, the pace of decline has slowed sharply.
In October, 190,000 jobs were lost, and the forecast for November was for another 130,000 to be cut.
Four sectors actually added jobs: professional and business services, education and health, temporary help employment and the government itself.
Although the unemployment rate has risen for almost two years solid, the rate of increase has been dropping throughout the year.
However, there are still some sectors that are seeing substantial job losses. Construction is still suffering, with 27,000 jobs lost over the month. Manufacturing is another area badly hit. It saw payrolls shrink by 41,000 between October and November.
There was a mixed reaction to the better-than-expected figures. Some saw it as simply a rogue month.
"Today's US employment report for the month of November was surprisingly good, but we believe it is a blip," said Jason Schenker, president of Prestige Economics.
"The worst is not behind us - at least not for the job market."
Others, although taken by surprise, thought the figure might signal a turning point.
"These numbers are almost too good to be true. Having said that, they are consistent with the weekly decline in initial unemployment claims," said Tom Sowanick, chief investment officer of the Omnivest Group.
"There's a 193,000 net improvement in jobs for the month. Average weekly hours worked [are] also up which is good for consumption spending. These are eye-popping numbers".
However according to a report from The Boston Globe, minorities in the US are not benefiting from the measures implemented by the Obama administration and unemployment among Afro-Americans and Hispanics could reach new records in the coming months.
Afro-Americans jobless rate reached 15.7% in October, the highest in 28 years while among Hispanics it was 13.2%.
Activists from both communities and mayors from cities with the highest unemployment rates are demanding that funds are specifically earmarked to help create job opportunities for Afro-Americans and Hispanics.
If not, according to several economists consulted by The Boston Globe, unemployment rate among Latino and Afro-Americans could soon reach 20%.