Argentine opposition takes over control of the Lower House
Saturday, December 5th 2009 - 11:44 UTC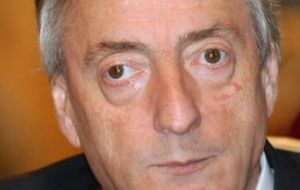 An unexpected alliance of all opposition forces in the Argentine Lower House (144 out of 257) defeated this week President Cristina Fernandez de Kirchner's congressional block on the crucial vote of authorities and committees for the incoming congress which officially begins December 10.
On Thursday evening, after 127 seats (of a total of 257 lawmakers) in the Lower House were renewed according to the results of the June 28 midterm elections making the ruling party lose the majority of seats, the opposition decided to give the first Vice-Presidency of the House to radical Ricardo Alfonsín and the Presidency of 25 of the 45 committees to Opposition members.
Kirchnerites obtained the presidency of 20 committees, including the strategic Budget and Constitutional Affairs committees. However it failed to obtain the majority of members in any of them. Kirchner's Victory Front will have one member less than half in the four key-committees, and less in the others.
The Lower House of Congress approved a motion proposed by the opposition Radical Civic Union to simultaneously vote on the authorities of the Lower House and on the components of the different committees, despite the resistance from Victory Front.
The head of the Radical Civic Union party, Oscar Aguad, asked for a vote to be held and the motion was approved by a majority. Aguad nominated pro-government Eduardo Fellner for the House Presidency, Ricardo Alfonsín for the Vice Presidency, pro-government Patricia Fadel for the second Vice President post, and left the third Vice President post "vacant."
The Lower House then approved the plan for the control of the committees, where the pro-government deputies will maintain the presidency of 20 committees and the opposition will maintain the presidency of 25.
"I think things are changing, it's not the same House. It's the first time the government has to yield to numbers. From now on if bills are to be approved, negotiations are inevitable", said Elisa Carrió head of the Civic Coalition and defeated presidential candidate in 2007.
"This is really the day after June 28th when the Kirchner couple lost their majority in Congress", said political commentator Joaquín Morales Solá. However it has to be seen if the opposition can manage to retain unity and cohesion, since the Victory Front remains as the first minority in the Lower House.
Among the new Congress members was former president Nestor Kirchner and husband of Cristina Fernandez who promised "to defend and promote all the projects promoted by the Executive".
"Mr. Kirchner and officialism have harvested a formidable defeat", said Deputy Fernando Solanas. Mr. Kirchner is considered the man with the strongest political power in Argentina. In spite of the June 28th setback he managed to pass through Congress several bills essential to ensure his power base among which the Economic Emergency giving the government a free hand with budget funds and a media bill to limit the "excessive power and concentration" of certain Argentine media.