Brazil and Peru create integrated border area in Amazon states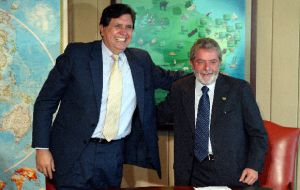 Brazilian president Lula da Silva will be signing with his Peruvian peer Alan García next week in Lima the creation of an integrated zone in the Amazon.
"We're going to create a border integrated zone between the Brazilian states of Acre and Rondonia and the Peruvian provinces of Madre de Dios, Puno and Cusco with free movement of people, goods and services" said Peruvian ambassador in Brasilia Hugo de Zela.
The integration will be completed with the inclusion of a highway that will connect both regions, of which only 80 kilometres are missing on the Peruvian side, and will definitively open the Pacific basin for Brazil.
Ambassador de Zela said that the highway does not cross areas inhabited by indigenous groups along the bi-national border area. This is a particularly sensitive issue since the area is known to have numerous loggers' groups that have infringed on territories belonging to indigenous groups.
Nevertheless the ambassador admitted that in the medium and long term "the traffic and the highway could affect these indigenous groups, but both countries are committed to prevent such a thing from happening", added de Zela.
President Lula da Silva is schedule to arrive in Lima next Thursday.
Lula da Silva and García are also expected to agree on an inauguration date for the highway sometime in the first half of 2010 and consider fluvial integration along the Amazon River from Manaus in Brazil to Yurimaras in Peru.
The final objective is to link with the Pacific through the Peruvian port of Paita.
Lula da Silva will also be signing an agreement covering the free trade zones of Manaos and the port of Patia, with the purpose of having Peruvian companies in Patia assemble digital television components since Brazil and Peru have adopted the same Japanese model.
A Peruvian-Brazilian school will also be opened in Lima where Portuguese language and Brazilian history will be taught.
Bilateral trade reached 3.256 billion US dollars in 2008 but so far this year has fallen to half, 1.47 billion USD in both cases favourable to Brazil with 2.3 and 1.1 billion USD respectively.