OAS commemorates 25th anniversary of Argentine/Chile peace treaty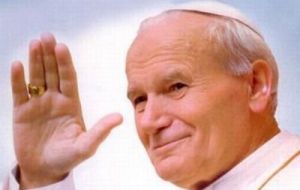 During its regular session Friday at OAS headquarters in Washington, the Permanent Council of the Organization of American States (OAS) commemorated the 25th anniversary of the signing of the Peace and Friendship Treaty between the Republics of Argentina and Chile.
The treaty, which was signed on November 29, 1984, thanks to the mediation of Pope John Paul II, determined "the complete and definitive solution to the border disputes between the two countries, from the Beagle Channel to Cape Horn," which lived their tenser moments in December of 1978.
The Permanent Representative of Argentina to the OAS, Rodolfo Gil, asserted that "the signing of the treaty between the two nations inaugurated a stage that evolved and greatly surpassed the expectations held back then, transforming itself into a yearning for integration between the two countries unheard of in the bilateral sphere."
Ambassador Gil also stressed how the treaty's echoes continue to resonate, as in the case of the recent creation of the joint peacekeeping force Cruz del Sur, established by the Armed Forces of Argentina and Chile. The Argentine representative emphasized that the Cruz del Sur force is "considered a relevant contribution to the peace and multilateralism that represent the progress in relations between the two nations".
The Permanent Representative of Chile to the OAS, Pedro Oyarce, assured that "the signing of this treaty was not a culmination, but the beginning of a great path of cooperation and understanding to consolidate a culture of peace in our countries".
"This spirit has led us to work together in Haiti and Cyprus," recalled Ambassador Oyarce, who also highlighted the value of the Cruz del Sur force as a "relevant contribution to peace and multilateral, political and humanitarian action".
During the meeting of the Permanent Council, the representatives of Brazil, Mexico, Bolivia, Costa Rica, Guyana, Peru and Uruguay intervened, celebrating the spirit of the commemoration as an example of peace to follow.